Please help support this website by becoming a TrainWeb Patron for just $5 per month. Click here for more info.
Welcome to Our Upcoming Events Page!
*Meetings*
Meetings are held the fourth Saturday of every month at the Reed Memorail Library Jenkins Annex Building in Ravenna at 7:30 p.m. 167 East Main Street. FOLLOWING THE MEETING: East Park Restaurant (one mile east of the meeting site.).
*Special Events*
19th Northeastern Ohio Railroad & Transportation Artifact Show & Sale, 225 Idaho Street, Austintown-Fitch High School, Austintown, Ohio. Sunday, July 18, 1999. 10 am to 4 pm. Come see us there!!!!!!!!
Cuyahoga Valley Senic RR Railfan Excursion - Independence to Akron *Date to be Set*
Ravenna Railroad Historical Society 1st Annual Picnic - Towner's Woods Park, Ravenna, August 21, 1999.
CP-Alliance: A day of railfanning at CP-Alliance. *Date to be Set*
RAILFEST '99: RRRHS Amtrak round-trip excursion to and from Altoona, Rennsylvania. Leave October 1st and return October 4. Reservations are requested. Altoona Railfest October 2-3, 1999.
Send Mail to Rmoskal@apk.net or to RRRHS@fcmail.com.
The Ravenna Railroad Historical Society, 1999
873 West Main St.
Ravenna, Ohio 44266
Phone: 330-298-0220 Fax: 330-298-0221
Web design by R. Moskal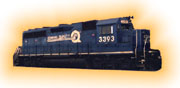 Click below for pages in the directory of TrainWeb sites:
Visit our Rail Magazine promotion trading partners: (Click here to add your print rail magazine.)
About Us | Contact Us | Advertise With Us | Silver Rails Country for Train Enthusiasts
View TrainWeb.US Stats | Page updated: 01/21/2019 | Version 2021a10a | Links | &copy2015-2021 NordiLusta, LLC
---