Please help support this website by becoming a TrainWeb Patron for just $5 per month. Click here for more info.
Welcome to the RRRHS Links Page!
Corporate Links
Conrail
Norfolk Southern Corp.
CSX Transportation
Trains Magazine Online
Railfan.net Web Hosting
RRRHS Ohio Links
The Ohio Railroad Page
Railroads of Ohio
Railroads of Northwest Ohio
Robert Johnson's Railroad Page
Erie Lackawana / Fallen Flag & Short Line Railroads
Other RRRHS Links
Penn Central Railroad Homepage
A large collection of rail pics dating back 20+ years, most from OH, PA, & NY.
Railroad-Mania.com, Large & growing collection of photos, layout diagrams, etc.
Send Mail to Rmoskal@apk.net or to RRRHS@fcmail.com.
The Ravenna Railroad Historical Society, 1999
873 West Main St.
Ravenna, Ohio 44266
Phone: 330-298-0220 Fax: 330-298-0221
Web design by R. Moskal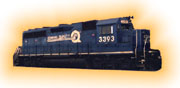 Click below for pages in the directory of TrainWeb sites:
Visit our Rail Magazine promotion trading partners: (Click here to add your print rail magazine.)
About Us | Contact Us | Advertise With Us | Silver Rails Country for Train Enthusiasts
View TrainWeb.US Stats | Page updated: 01/21/2019 | Version 2021a10a | Links | &copy2015-2021 NordiLusta, LLC
---