Please help support this website by becoming a TrainWeb Patron for just $5 per month. Click here for more info.
This page will contain schedules of CSX, NS, and Amtrak trains running through Ravenna!
Send Mail to Rmoskal@apk.net or to RRRHS@fcmail.com.
The Ravenna Railroad Historical Society, 1999
873 West Main St.
Ravenna, Ohio 44266
Phone: 330-298-0220 Fax: 330-298-0221
Web design by R. Moskal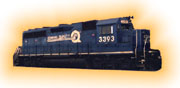 Click below for pages in the directory of TrainWeb sites:
Visit our Rail Magazine promotion trading partners: (Click here to add your print rail magazine.)
About Us | Contact Us | Advertise With Us | Silver Rails Country for Train Enthusiasts
View TrainWeb.US Stats | Page updated: 01/21/2019 | Version 2021a10a | Links | &copy2015-2021 NordiLusta, LLC
---