Please help support this website by becoming a TrainWeb Patron for just $5 per month. Click here for more info.


Greetings,This website will deal mainly with train activity south and west of Salt Lake City, Utah. I will be featuring photos from the early 1990's to the present,Hopefully I will be able to obtain some photos prior to that time from the 1970's and 1980's. This website will feature photos of Rio Grande,Southern Pacific,Union Pacific and Utah Railway around Provo.


Southern Pacific SD40-T2#8365 basks in sunlight in Union Pacific's Provo Yard in the Summer of 1999, Testament to the merger phases that SP has been through in the last thirteen years up to 1999. The Southern Pacific''Speed Lettering'', Was Rio Grande Inspired.
In The Early 1990's,It was still possible to find Rio Grande GP30's roaming on the former Rio Grande Mainline between Salt Lake City and Provo.In December 1992,Southern Pacific's Provo Local approaches Provo's 820 North Grade Crossing with tonnage out of Geneva Steel. Once GP30's 3017,3023,3015 drop off it's load of rolled steel at Southern Pacific's former Rio Grande Provo Yard,It will take it's outbound west train back to Roper Yard in Salt Lake City. These famed GP30's were built in 1962,Rio Grande was amongst several railroads at that time to purchase these stylish locomotives. Quinn Copyright 2003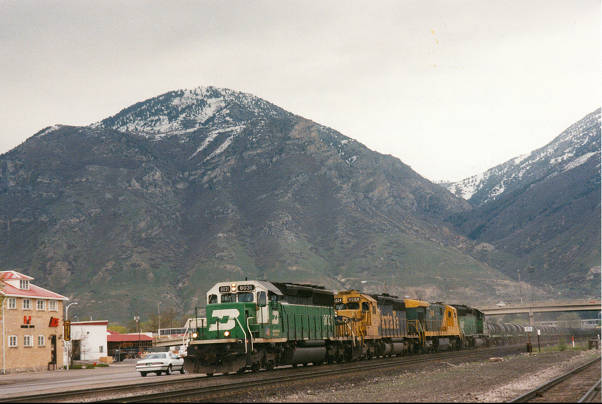 As a condition of the Southern Pacific/Union Pacific Merger,Burlington Northern Santa Fe was granted trackage rights between Denver and Stockton,California.On April 25,1998,BN 8031/ Santa Fe 5024/ LRCX 9524/ BN 8038 lead a westbound unit coil steel train through Provo. This train is running from Birmingham,Alabama to Pittsburg,California on former Rio Grande Rails. In just one hour,This train symboled U-BIRTPIT-1 will complete the rest of it's journey to Pittsburg,CA from Salt Lake City on former Western Pacific Rails.

Quinn Copyright 2003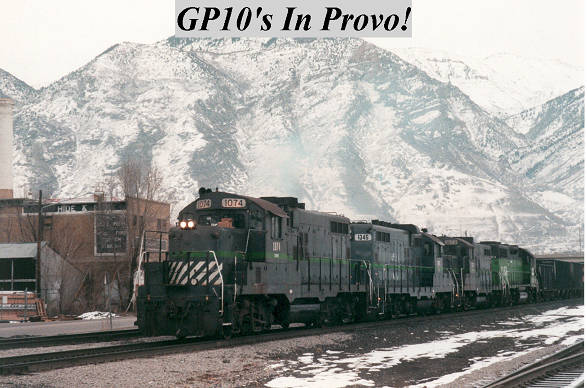 In April 1997,Utah Railway became BNSF's local switching agent between Provo and Ogden switching local industries.New yards were built at Provo,Midvale and Ogden. In order to fill it's new duties,Utah Railway purchased old and worn-out Santa Fe and Burlington Northern GP20's and GP35's. On December 27,1997,Utah Railway's RUT 309 Job rolls westbound out of Provo with local BNSF Tonnage bound for Utah's Yard at Midvale.In charge of this train are three former Mid- South GP10's 1074/1045/1073 along with a former BN GP35# 2163.A green signal at milepost 701.3 awaits them for the trip to Midvale. What A Treat It Is To See Vintage Geeps from the 1950's and 60's leading a Utah Railway Local in the final years of the twentieth century.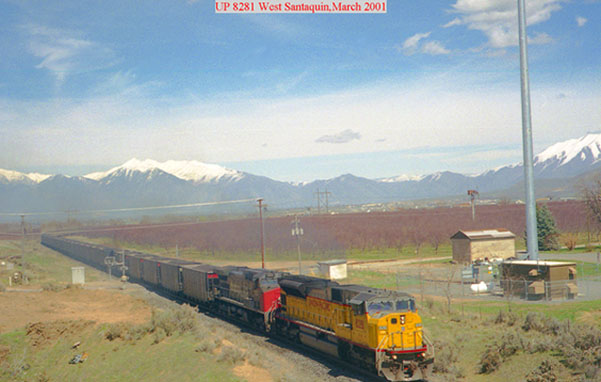 Union Pacific SD9043AC# 8281 along with a lone Southern Pacific AC4400 in DPU Mode lead a loaded coal train bound for Moapa,Nevada in the early spring of 2001 at Santaquin's 163 degree Barries Curve. This train was loaded on the former Rio Grande. This near horseshoe curve was part of a line reconstruction project in 1912. This portion of the UP Provo Sub was rebuilt that year from the crossing of Rio Grande's Tintic Overpass To The Summit Of York Hill. Quinn Copyright 2003
Click here for more info and photos.
Click below for pages in the directory of TrainWeb sites:
Visit our Rail Magazine promotion trading partners: (Click here to add your print rail magazine.)
About Us | Contact Us | Advertise With Us | Silver Rails Country for Train Enthusiasts
View TrainWeb.US Stats | Page updated: 01/21/2019 | Version 2021a10a | Links | &copy2015-2021 NordiLusta, LLC
---