Please help support this website by becoming a TrainWeb Patron for just $5 per month. Click here for more info.

Reading Line Railfan Trip

Reading Line Railfan Trip
by J. Alex Lang
Allentown & Bethlehem, PA Photos
CR Reading Line Photos
CR Lehigh Line Photos
CR Reading Line Timetable
CR Lehigh Line Timetable
---
Allentown, Pennsylvania lies in the heart of the Lehigh Valley, hosting a great deal of Conrail action on its Lehigh and Reading lines. Peter McGilligan and I ventured from Allentown west to Reading PA on an average Monday morning in the midsummer of 1996.

Our first catch of the day was ALHB-3, departing CP-Burn at 9:00am. Usually, this train awaits the passing of priority train Mail-3 before beginning its pseudo-local freight trip to Harrisburg. Behind the power is a long string of pneumatic-dump ballast cars, owned by Wimpey Minerals of Annville PA (where I go to college!). These WIMX cars are often run empty from Wimpey's transloading terminal (in Camden NJ) on this train. ALHB was shot from the Susquehanna Street Bridge on the South Side of Allentown, an advantageous photo locale for westbound CR action. In the background, Allentown's landmark UGI Gas tank can be seen, as well as the copper roof of the old A&B meat plant downtown.
| | |
| --- | --- |
| Peter and I soon moved west to the next town of Emmaus, seven miles west of Allentown. Emmaus is a small, colorful town, not unlike many other locales on Conrail's Reading Line. ALHB was running slow this day, as we were lucky enough to catch him here. This location is about four blocks east of the town square. Several blocks west of this locale, the ex-Reading station can be worked into photographs, as well as the Fourth Street overpass which was raised for non-existent D&H/CPRS/STL&H stack trains. | |
---
| | |
| --- | --- |
| | Traffic was light this June morning, so Peter and I skipped Macungie, Alburtis, Topton, Lyons, and Fleetwood; reaching Blandon where we met up with eastbound PICC-2 at the Agway siding. Blandon is the old junction point of the Reading Low Grade (currently used) and the abandoned "Old Line" which ran at a much steeper grade along U.S. 222 to Reading proper. CP-Blandon is the east end of a single-track bottleneck from there west to Belt Line Junction (CP-Belt). |
After PICC's passing, we meandered to the next town of Temple, where Reading and Northern's Pennsylvania Division (old Blue Mountain and Reading) interchanges at CP-West Laurel.
St. Louis-bound Mail-3 scurried past at 11:29am with it's usual consort of power to be split off at Harrisburg for train Mail-9H. The Reading and Northern station can be seen wearing its former Blue Mountain and Reading name.
| | |
| --- | --- |
| | Moving further west, we caught up with eastbound PIBE-2 working out of Reading Yard towards CP-Belt. PIBE is seen at Belt making a double, preparing for its journey to Bethlehem, under increasingly cloudy skies. CP-Belt, while not particularly photogenic, is still a favorite of Reading railfans. CP-Belt marks the end of the single-track bottleneck, and the Reading Line continues west to CP-Wyomissing Junction, where it joins the Harrisburg Line. From CP-Belt, trains can continue both south to Philadelphia or west to Harrisburg, using either the old Reading mainline through downtown, or by using the Belt Line, running along the Tulpehocken Creek and Schuylkill River. The entire Reading Line is under the control of Conrail's Lehigh Line Dispatcher (Philadelphia Division). |
---
| | |
| --- | --- |
| | At this point, we decided to slowly return to Allentown. We followed PIBE east to Blandon, shown here at CP-Blandon. Rumors have been circulating regarding the installation of a second track, but nothing has been announced officially as of yet. PIBE-2 is shown here going from the single track to the #2 track. This past summer saw a great deal of trackwork (hence the Conrail truck); due to this work, Conrail had even placed a block operator at the hand-crossover at Lyons. |
---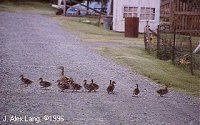 Here is a family of ducks in the town of Bowers, just east of Lyons.

---
| | |
| --- | --- |
| Lyons is a quaint little town; it's main thoroughfare is bisected by the Conrail tracks. Lyons is the site of East Penn Manufacturing, where Deka batteries are made. There is a team track here, where cars are unloaded and trucked a quarter mile to the plant. Witness Allentown to Waycross (Georgia) train ALCS-3 breeze past about to pick up orders from the block operator there. ALCS generally features CSXT runthrough power (as will all CR trains, soon enough), usually SD40-2's, SD50's, or earlier safety cab GE's. | |
| | |
| --- | --- |
| | Here is a view from the other (south) side of the tracks at Lyons, enabling a view of cars spotted at the Deka team track. This is Mail-3, taken a week later on June 9, 1996, again with its surplus of horsepower. |
| | |
| --- | --- |
| After visiting Lyons, we returned to Allentown, as trackwork brought any traffic to a halt. We decided to stop by Allentown yard, and we were delighted to find this Southern Pacific GP60 (clean) on the ready tracks awaiting the creation of this photograph. It is a good idea to check in at Allentown before railfanning in this area, as most of the day's westbound power can be observed from the west end of the yard. Generally, western foreign power will operate on ALEL, OIPI, or ALPI; CSXT power runs on ALCS or ALHB; and NS power can be found on ALNS or SENS. Foreign power has become common on BUAL/ALHB, since these trains do not require cab signal-equipped units in the lead. | |
---

This page was created and maintained by J. Alex Lang, &copy 1997-1998.
Last updated June 9, 1998
Click below for pages in the directory of TrainWeb sites:
Visit our Rail Magazine promotion trading partners: (Click here to add your print rail magazine.)
About Us | Contact Us | Advertise With Us | Silver Rails Country for Train Enthusiasts
View TrainWeb.US Stats | Page updated: 01/21/2019 | Version 2021a10a | Links | &copy2015-2021 NordiLusta, LLC
---