Please help support this website by becoming a TrainWeb Patron for just $5 per month. Click here for more info.

text="#000000" link="#0000EE" vlink="#551A8B" alink="#FF0000">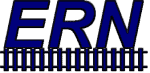 ---
| | | |
| --- | --- | --- |
| MAY 23, 1998 | Last Updated 09:00 ET | EASTERN RAILROAD NEWS |
---
Please Note!
News Editor Kevin Burkholder will be on vacation through Monday, May 25. Alex Lang will be editing and posting Eastern Railroad News pages daily through Monday. If you have news, interesting sightings, or other pertinent information, please send it to Alex at jlang@westol.com. Thank you.
---
| | |
| --- | --- |
| | CP Rail Office Car Special |
ERN erroneously reported that the CP Rail OCS was powered CPR "Beaver" SD40-2 5647 and D&H 7309. Indeed, the train is powered by CPR 5647 and D&H 7303. - Sam Botts, Jon Kayes

CPR's northbound trip arrived at CP-Dupont (near Wilkes Barre) yesterday at 14:50, and was held at Taylor for almost an hour so local media could film the train's arrival at Steamtown. Upon today's departure, two NYSW dome cars 505 and 509 will be added to the consist. Due to clearance restrictions on Amtrak, these cars were not used south of Scranton. - Sam Botts
---
| | |
| --- | --- |
| | Conrail Shorts |
Conrail train DIM-101 left the Holtwood, PA power plant yesterday at 1:00 PM, moving a transformer out of the power plant. It's consist was: CR GP38-2 8271, and idler car, the flatcar loaded with the transformer, and CR GP38-2 8269. This trip provided a rare daylight chase on the Port Road Branch.

PRR E8A News - Pennsylvania Railroad-painted E8A 5898, formerly on the property of the Reading & Northern, has been purchased by St. Louis Iron Mountain Southern Railroad in Delta, Missouri. Reporting marks for this unit are SLIM 5898. It was reported as received from interchange at Reading, PA on the 18th. The unit will travel west via Conway and the Indianapolis Line to a UP interchange at Salem. -Jim Leuders

SD70MAC Track

| | | | | |
| --- | --- | --- | --- | --- |
| 4130 | Cleveland, OH | 5/22/98 | 22:14 ET | BUEL-2 |
| 4131 | Toledo, OH | 5/23/98 | 05:30 ET | COEL-2 |
| 4132 | Cleveland, OH | 5/22/98 | 22:14 ET | BUEL-2 |
| 4133 | Toledo, OH | 5/23/98 | 05:30 ET | COEL-2 |
| 4134 | Cleveland, OH | 5/23/98 | 02:50 ET | SEIN-1 |
| 4135 | Cleveland, OH | 5/23/98 | 02:50 ET | SEIN-1 |
| 4136 | Elkhart, IN | 5/23/98 | 03:55 ET | ELIN-2B |
| 4137 | Elkhart, IN | 5/23/98 | 03:55 ET | ELIN-2B |
| 4138 | Indianapolis-Big 4, IN | 5/22/98 | 20:14 CT | INEL-2B |
| 4139 | Indianapolis-Big 4, IN | 5/22/98 | 20:14 CT | INEL-2B |
| 4140 | Oak, PA | 5/23/98 | 00:25 ET | UWZ-423 |
| 4141 | Oak, PA | 5/23/98 | 00:25 ET | UWZ-423 |

-Railnuts
---
| | |
| --- | --- |
| | Implementation Update |

Headlines

Surface Transportation Board (STB) Announces Two-Day Hearing Schedule: The STB will hear an unprecedented two days of oral arguments by lawyers representing Norfolk Southern, CSX and other parties to the NS-CSX-Conrail proceedings. The STB schedule specifies the order of appearance and time allotted to each participant during the June 3 and 4 arguments. It provides for a total of nine hours of oral argument to be divided among approximately 70 parties. Two hours and 30 minutes are allocated to the primary applicants (NS and CSX). The other parties are allocated six hours and 30 minutes and are divided into the following categories: federal government parties; broad shipper interests; specific shipper interests; coal interests; passenger and commuter interests; other railroads; New York/New Jersey; Chicago; Indianapolis; Ohio; other state governments; environmental and safety issues; and labor. U.S. Congressmen also are allocated time to speak.

The Next Step

Implementation Countdown...

* 12 days until STB hears oral arguments, June 3 and 4, 1998
* 17 days until STB votes on application, June 8, 1998
* 62 days until STB publishes its written decision, July 23, 1998
* 92 days until the effective date of the STB decision and the Control Date, Aug. 22, 1998
* 102 days until "Day 1," the hypothetical Closing Date for NS planning purposes, Sept. 1, 1998.


Notable

Norfolk Southern announced on May 19 the appointment of Anthony J. Licate, formerly of Conrail, as director Labor Relations, based in Norfolk. Licate, a 19-year Conrail employee, joined the Labor Relations department as an assistant manager in 1983, rising to positions of increasing responsibility. He has a total 33 years of railroad service, having worked for Chicago and Northwestern and Penn Central, a Conrail predecessor line. He has a bachelor's degree from the University of Notre Dame and in June expects to complete the requirements for a master's degree at Drexel University.

Quotable

"To you who have helped us in the past and have a stake in our future, I thank you, and we need your continued support to create a better, more competitive service environment...Our combination with Conrail must move forward and do so on time. Don't let this crisis in the West be a device for returning to a progress-threatening regulatory framework or for delaying the transaction. Safe, service-oriented rail transportation is the future, and Norfolk Southern employees share a vision to make the Thoroughbred the carrier of choice." -- David Goode, NS chairman, president and CEO, to the Council of Logistics Management, May 20.

Conrail And Norfolk Southern Heritage

Otherwise vigorously competitive railroad companies stand united in a safety campaign called Operation Lifesaver, designed to reduce collisions at highway-rail grade crossings. Both Conrail and Norfolk Southern historically have staunchly supported this industrywide program, which has grown since its beginning in 1972 to include a coalition of federal, state and local government and corporate entities. Conrail invited NS Public Relations representatives aboard several special Operation Lifesaver trains in Ohio and Pennsylvania during April and May. The trips gave NS and Conrail employees opportunities to work together with various elected officials and representatives of enforcement, safety and transportation agencies involved in the campaign. The trips were April 28 between Cleveland, Ohio, and Erie, Pa.; April 30 between Pittsburgh and Conemaugh, Pa.; and May 12 between Crestline and Alliance, Ohio. - Norfolk Southern Public Relations
---
EXCURSIONS

MARC EXCURSION
MARC will operate a Passenger Special on Monday May 25. Train is to depart Washington, D.C. for Brunswick, MD at 13:35 ET. Train is scheduled to return at 17:38 ET from Brunswick to D.C. Trip is hosted by several area Historical Groups.

ERIE STREAMLINER EXCURSION
On Saturday, September 19 the United R.R. Historical Society will sponsor the ERIE STREAMLINER EXCURSION, operating from Hoboken, N.J. to Suffern, N.Y. and Hackettstown, N.J. The train will feature those classic Erie livery E8s, Nos. 834 and 835. Numerous photo stops will be scheduled. Fare is $37 for adults and $20 for children (11 and under) $20. Parlor car service w/ beverages and snacks included (limited seating) is available for $79. To order tickets, send a SSAE and check payable to URHS-NJ, P.O. Box 711, Clark, N.J. 07066-0711. Credit card orders and information phone 732-671-9644 (evening).
---

STEAMTOWN WEEKEND NOTE: There will be a night photo session at Steamtown National Historic Site on Sunday evening, May 24, 1998, at 8:00 p.m. In honor of Memorial Day weekend, the theme will be Railroads and the Military. Scenes will include BLW 0-6-0 26 switching two PRR boxcars that are being unloaded into military vehicles and soldiers boarding a troop train. There will also be a set-up featuring the Big Boy in a scene based on a 1940s photo of two soldiers giving the "V" victory sign to the engineer.
Tickets are $15 and will be available at the gate. Lumedyne lighting will be provided by Steve Barry, Fred Jones, Frank Etzel, Kermit Geary and Joe Calisi.
---
We are readying the new site and preparing for our "magazine" format for a June 1 debut. We are currently still looking for a few individuals to round out the debut. We are in need of columnists from Indiana, Illinois, Florida and a few others. We are also beginning to accept more photos/slides of news events and feature material. If you are interested in joining the ERN staff or contributing feature material, please contact Kevin Burkholder at ern-kevin@juno.com or KBurkholder@psghs.edu (NOTE NEW E-MAIL ADDRESS) for more details.
---
Please check this location daily, as new information will be posted, as it becomes available. If you have news to report or information regarding railroads in the Eastern United States, please send e-mail to J. Alex Lang at jlang@westol.com
Click below for pages in the directory of TrainWeb sites:
Visit our Rail Magazine promotion trading partners: (Click here to add your print rail magazine.)
About Us | Contact Us | Advertise With Us | Silver Rails Country for Train Enthusiasts
View TrainWeb.US Stats | Page updated: 01/21/2019 | Version 2021a10a | Links | &copy2015-2021 NordiLusta, LLC
---