Content provided as an educational volunteer effort of the American Passenger Rail Heritage Foundation (APRHF), a 501(c)(3) non-profit organization.
Please help support the preservation and promotion of passenger rail heritage. Join the APRHF today! Website hosting made possible by our sponsors.

"#FF0000">
The Geologically Improbable Railroad
Equipment Roster
[ Home ] [ Up ] [ Previous Picture ] [ Next Picture ]
---
The GIRR relies on the Santa Fe to provide most of the motive power. Equipment that was supplied with different road names has been repainted and relettered to Santa Fe.
Much of the rolling stock is lettered for the Santa Fe also, although there is quite a collection of foreign road stock as well. The GIRR purchases much of its equipment second hand but most was originally manufactured by AristoCraft with a fair number of cars from Bachmann, USA Trains and MDC. LGB has provided only the cars from an industrial starter set and one 2 bay hopper.
---
Motive Power
A recent addition to the GIRR motive power roster is the new USA Trains GP-9. This is one fine engine. Read more about it at GP-7/9 Tips.
An ABA set of Alco FA-1 units is assigned to heavy freight service. Two of these are early production units which have been tuned up and provide excellent service. This locomotive set will pull 45 cars on the 1.6% ruling grade of the GIRR. They would pull more, but the trains straighten in the curves. Use these links to find information on Tuning and Lubricating Aristo Diesels or FA Tips. One of these locos has been converted to battery power.
An FA/FB Warbonnet set has been added to the roster to pull a set of streamliners. As described in FA Tips, these engines have been modified to reduce the unit spacing so that the diaphragms nearly touch. These two units are also early production units and work fine after a tuneup. Both have been converted to DCC and have been lowered to match the lowered streamliner set.
An Aristo fast Pacific is dedicated to passenger service pulling a string of four Aristo Heavyweight passenger cars. The Pacific Tips Page contains some information you might want to see if you own or are considering buying an Aristo Pacific. The Pacific has also been converted to DCC.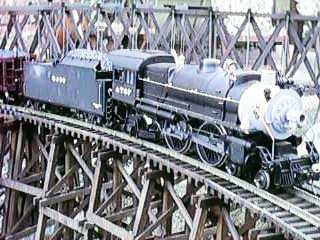 A Lionel Atlantic is by far the most heavily modified engine on the GIRR. Even though this kind of engine rarely pulled freight in 1:1 scale service, on the GIRR, it pulls whatever consist fits the chief engineer's fancy. The most common consist is a local passenger and mail consist consisting of an RPO and a Standard Heavyweight coach. The Atlantic has been converted to DCC.
An Aristo RS-3 provides much of the day to day way freight service. A second RS-3 has also been added to the roster. Both have been converted to DCC.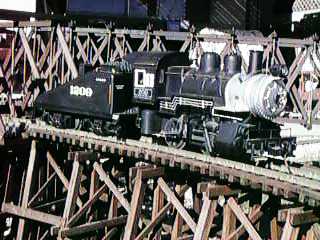 An Aristo 0-4-0 works as a yard goat and does some industrial switching on the shorter sidings. This loco has also been converted to DCC.
A Bachmann Shay is completely out of character and time for this mid-20th century railroad. It is also completely out of scale as most of the equipment is either 1:29 or 1:32 scale. The Shay is 1:20.3 scale and therefore 50% too big but it runs so damn well that it is used for a lot of switching service. The loco has been converted to DCC.
Since the couplers are truck mounted in a completely un-prototypical fashion, the engine works well in switching service in tight places as the couplers tend to line up and couple on curves.
My lone LGB engine is a holdover from a starter set. Its seen hard service as a yard goat but most often it pulls the Aristo Track Cleaning Car. This loco has recently been converted to battery power.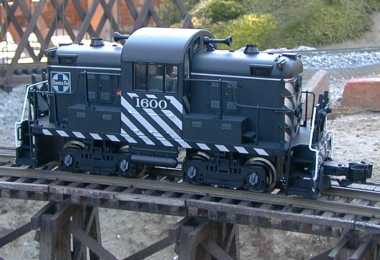 An AristoCraft Center Cab industrial switcher has appeared on the property. This engine is usually used for making up trains, but it has been seen on the main heading up a freight to two.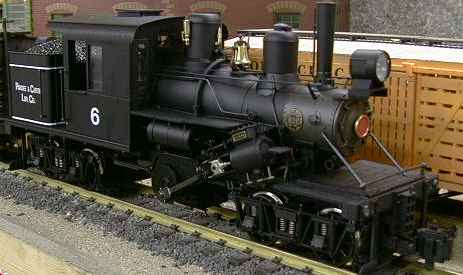 A Bachmann Climax was originally intended to run on the GIRR Mountain Division, but it got a DCC conversion so that it now runs on the GIRR, usually doubleheaded with a DCC converted Shay.
On light traffic days, an Aristo Doodlebug handles the passenger requirements of the GIRR. The Doodlebug has also been converted to DCC.
---
Rolling Stock
AristoCraft

Heavyweights

Santa Fe RPO
Santa Fe Combine
Santa Fe Diner
Santa Fe Coach
Santa Fe Observation
Santa Fe Pullman

Streamliners

1 Santa Fe Coach (sometimes used in MOW service as a track cleaning car)
1 Santa Fe Diner
2 Santa Fe Domes
1 Santa Fe Observation
1 Santa Fe Baggage Car

Boxcars

1 ATSF
1 Southern Pacific
1 B&O Sentinel
1 B&O Time Saver
1 Timkin
1 Great Northern Billy Goat
1 Pennsylvania
1 REA

Reefers
Stock Cars

1 ATSF
1 CNW
1 Southern Railway

Flat Cars
1 Soo Line Drop End Gondola
1 KCS Bulkhead Flat (sometimes used in MOW service as a screw retriever car)
Single Dome Tank Car

1 Wyandotte Chemical
1 Dow Chemical

1 Sinclair Triple Dome Tank Car
2 Boraxo Covered Hopper
1 ATSF Steel Caboose
MOW Cars

1 Track Cleaning Car
1 Snow Plow

USA Trains

8 Steel Santa Fe Map Series Boxcars
1 Orange Santa Fe Map Series Boxcar
1 ATSF Bay Window Caboose

Bachmann

3 Bay Hoppers

5 ATSF
3 Pennsylvania
1 Union Pacific
1 Peabody

1 Union Pacific Trailer Train Car

MDC
LGB

1 Burlington 2 Bay Hopper
4 2-axle short flats
---
[ Home ] [ Up ] [ Previous Picture ] [ Next Picture ]
---
© 1997-2001 George Schreyer
Last Updated Apr 21, 2001
Click below for pages in the directory of TrainWeb sites:
Visit our Rail Magazine promotion trading partners: (Click here to add your print rail magazine.)
Newsletter | About Us | Contact Us | Advertise With Us | Silver Rails Country for Train Enthusiasts
View TrainWeb.US Stats | Page updated:12/22/2018 | Version 2018l22b | Links | &copy2015-2019 NordiLusta, LLC
---