Content provided as an educational volunteer effort of the American Passenger Rail Heritage Foundation (APRHF), a 501(c)(3) non-profit organization.
Please help support the preservation and promotion of passenger rail heritage. Join the APRHF today! Website hosting made possible by our sponsors.

"#FF0000">
The Fairplex Garden Railroad
Viaducts, Bridges and Trestles
[ Home ] [ Up to Index ] [ Previous ] [ Next ]
---
There are many bridges, viaducts and trestles on the display. This steel bridge is part of the original display and has been providing good service for many years.
This wooden truss bridge crosses a small lake near the backside of the display. This is another feature that is difficult for the public to see.
I believe that the wooden bridge is part of the original display while the trestle approaches are new. BridgeMasters provided several of the bridges and trestles in the rebuilt display.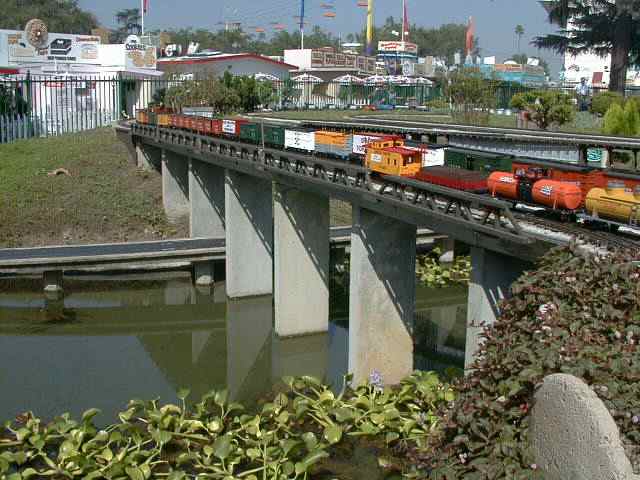 This is another view of the main viaduct in the southeast section of the display. This concrete structure crosses a lake at the foot of the dam and a section of the roadway.
Behind the main concrete viaduct, there is a combination wooden trestle and deck bridge, another concrete viaduct and in the distance, yet another wooden trestle.
---
[ Home ] [ Up to Index ] [ Previous ] [ Next ]
---
© 1998 George Schreyer
Created Sep 13, 1998
Last Updated Nov 4, 1998
Click below for pages in the directory of TrainWeb sites:
Visit our Rail Magazine promotion trading partners: (Click here to add your print rail magazine.)
Newsletter | About Us | Contact Us | Advertise With Us | Silver Rails Country for Train Enthusiasts
View TrainWeb.US Stats | Page updated:12/22/2018 | Version 2018l22b | Links | &copy2015-2019 NordiLusta, LLC
---