Content provided as an educational volunteer effort of the American Passenger Rail Heritage Foundation (APRHF), a 501(c)(3) non-profit organization.
Please help support the preservation and promotion of passenger rail heritage. Join the APRHF today! Website hosting made possible by our sponsors.

"#FF0000">
The Fairplex Garden Railroad
Overall Views
[ Home ] [ Up to Index ] [ Previous ] [ Next ]
---
This view showing about half of the display is taken from the front center of the display looking generally southward. To the right of the picture is the truck road and a town scene. The yellow building to the rear is the main operator's station.
This view is taken from the same spot looking generally northward toward the other end of the display. The metal truss bridge is part of the original display. The mission building depicts a California mission and the surrounding area in the late 19th century.
Since this is a county fairgrounds, sometimes a 1:1 scale element invades the display. A skyride runs over part of the display. In some scenes, banners, fences and light poles intrude.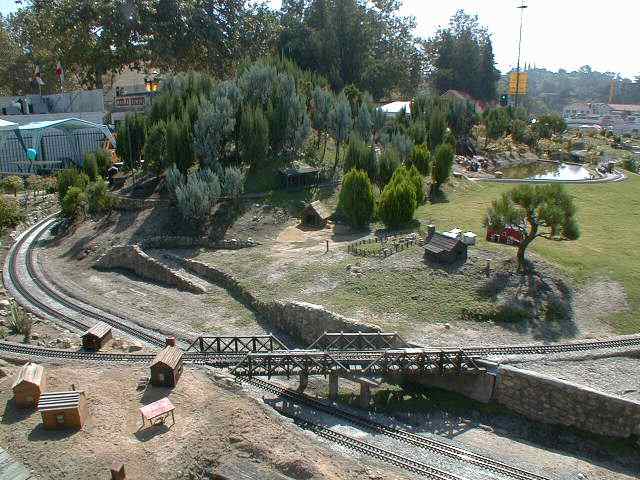 At the northeast corner of the display is a section that represents California's forests. Space within the well kept miniature trees are wooden forts, mining and logging scenes. In the open area below are farming and ranching scenes.
---
[ Home ] [ Up to Index ] [ Previous ] [ Next ]
---
© 1998 George Schreyer
Created Sep 13, 1998
Last Updated Nov 4, 1999
Click below for pages in the directory of TrainWeb sites:
Visit our Rail Magazine promotion trading partners: (Click here to add your print rail magazine.)
Newsletter | About Us | Contact Us | Advertise With Us | Silver Rails Country for Train Enthusiasts
View TrainWeb.US Stats | Page updated:12/22/2018 | Version 2018l22b | Links | &copy2015-2019 NordiLusta, LLC
---