Please help support this website by becoming a TrainWeb Patron for just $5 per month. Click here for more info.
Traveling on the Vaigai Exp.
During the summer of 1985 (just before I came over to the States), one
of my dreams came true when I got a chance to travel on the prestigious
Vaigai Exp. from Dindigul to Madras Egmore. Here are some snaps:
At Tiruchchirapalli Jn. (the YDM4A MG diesel loco. with
matching livery)
Negotiating a curve just outside Tiruchchirapalli
At Villupuram Jn.
Overtaking a passenger train (headed by a YAM1 MG electric loco.)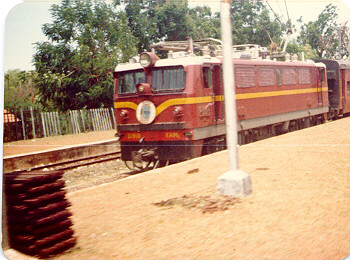 Cruising through Tambaram Jn.
Click below for pages in the directory of TrainWeb sites:
Visit our Rail Magazine promotion trading partners: (Click here to add your print rail magazine.)
About Us | Contact Us | Advertise With Us | Silver Rails Country for Train Enthusiasts
View TrainWeb.US Stats | Page updated: 01/21/2019 | Version 2021a10a | Links | &copy2015-2021 NordiLusta, LLC
---