Please help support this website by becoming a TrainWeb Patron for just $5 per month. Click here for more info.
Dadar to Madras Central on the Chennai Exp.
This was one of the many train trips during my visit to India
in winter of 1989.

The double-headed Udyan Exp. at Wadi Jn.
Another shot of the Udyan Exp.
Crossing the Krishna river
Iron-enriched laterite soils (somewhere between Raichur and Adoni)
A WDM2-headed freight train at Guntakal yard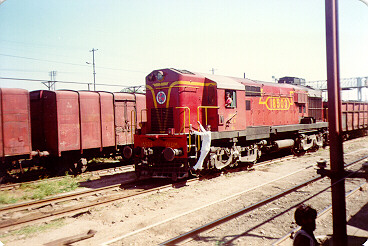 Click below for pages in the directory of TrainWeb sites:
Visit our Rail Magazine promotion trading partners: (Click here to add your print rail magazine.)
About Us | Contact Us | Advertise With Us | Silver Rails Country for Train Enthusiasts
View TrainWeb.US Stats | Page updated: 01/21/2019 | Version 2021a10a | Links | &copy2015-2021 NordiLusta, LLC
---