Content provided as an educational volunteer effort of the American Passenger Rail Heritage Foundation (APRHF), a 501(c)(3) non-profit organization.
Please help support the preservation and promotion of passenger rail heritage. Join the APRHF today! Website hosting made possible by our sponsors.
Other Train Journeys in India
Here are some photographs from the following journeys:
1. Bombay V.T. to Mughal Sarai by Bombay - Howrah Mail via Allahabad [Winter '86]
2. New Delhi to Bombay Central by Rajdhani Exp. [Winter '86]
3. Madras Central to Mughal Sarai by Madras - Patna Exp. [Winter '89]
4. Varanasi to Howrah by Himigiri Exp. [Winter '89]
5. Varanasi to Dadar by Mahanagri Exp. [Winter '89]

[from #1] Approaching Harda (note the scarlet red RMS coach
and the blue WDM2)
[from #1] Standing next to the Qutub Narmada Exp. at Jabalpur Jn.
[from #1] Another shot of the Qutub Narmada Exp. as our train leaves
Jabalpur and heads towards Katni
[from #2] The Rajdhani Exp. greets the suburbs of Bombay
[from #2] Another shot of the Rajdhani Exp.
[from #3] The paper factory near Sirpur Kaghaz Nagar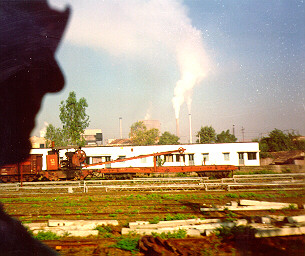 [from #3] Negotiating the Wardha bypass as our train approaches
Wardha East (now Sewagram)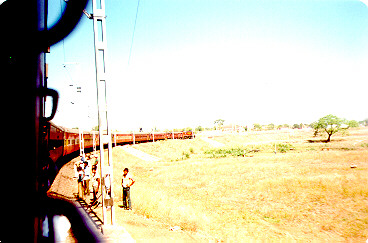 [from #3] The double-headed Tamilnadu Exp. crosses our train
somewhere between Nagpur and Pandhurna
[from #4] Meeting a WAM1-headed passenger train at Sitarampur Jn.
[from #4] A WAG5 flanked by two steam locos. at Asansol yard
[from #4] Overtaking a WAG4-headed freight train in the quadruple
track section between Asansol and Barddhaman
[from #4] Passing a WAM1-headed freight train
[from #4] The New Delhi - Howrah Rajdhani Exp. overtakes our train
somewhere between Barddhaman and Howrah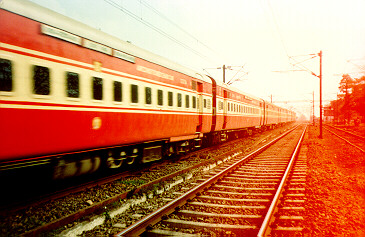 [from #5] A WAM2 heads the Chambal Exp. at Allahabad Jn.
Click below for pages in the directory of TrainWeb sites:
Visit our Rail Magazine promotion trading partners: (Click here to add your print rail magazine.)
Newsletter | About Us | Contact Us | Advertise With Us | Silver Rails Country for Train Enthusiasts
View TrainWeb.US Stats | Page updated:12/22/2018 | Version 2018l22b | Links | &copy2015-2019 NordiLusta, LLC
---