Please help support this website by becoming a TrainWeb Patron for just $5 per month. Click here for more info.
A comprehensive photographic overview of
AMERICAN INTERMODAL DOUBLE-STACK RAILCARS
by Matt Hannes
intermodal_matt@hotmail.com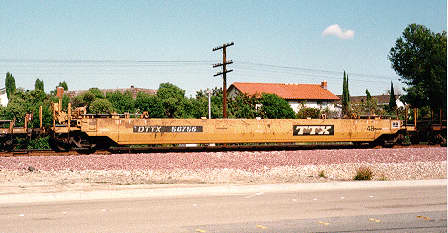 The purpose of this page is to illustrate the double-stack railcar designs being used in intermodal service by American railroads. This site was created as an aid to transportation researchers, railroad enthusiasts, and scale modellers.
---
Click on a link below to visit the photo pages for each of the indicated railcar types:
DOUBLE-STACK CONTAINER CAR DESIGNS:
Gunderson designs
Thrall Car Manufacturing designs
National Steel Car designs
ALL-PURPOSE STACK CAR DESIGNS:
Gunderson designs
National Steel Car designs
---
If you have photos of intermodal railcars that you would like to contribute to this page, or if there is a type of railcar that I missed, please e-mail me at intermodal_matt@hotmail.com
Visit The Intermodal Container Web Page at http://www.matts-place.com/intermodal/part1/sea_containers1.htm
Click below for pages in the directory of TrainWeb sites:
Visit our Rail Magazine promotion trading partners: (Click here to add your print rail magazine.)
About Us | Contact Us | Advertise With Us | Silver Rails Country for Train Enthusiasts
View TrainWeb.US Stats | Page updated: 01/21/2019 | Version 2021a10a | Links | &copy2015-2021 NordiLusta, LLC
---