!(C) 2003>
Please help support this website by becoming a TrainWeb Patron for just $5 per month. Click here for more info.
My real love is locomotives, so the Lazy Acre RR has more than
enough of them in relationship to its rolling stock.
#1

7-ton 4-wheel Dunkirk


#2

0-4-2 saddle tank Porter
#3

0-4-0 saddle tank Porter


#4

12-ton Class A Climax


#5

14

-

ton T-

boiler Shay

So far the Lazy Acre RR's rolling stock consists of a few
scratchbuilt flatcars and disconnects.
---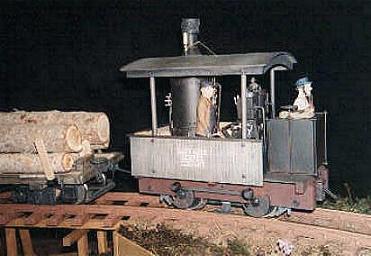 Here is my one-spot, a Dunkirk. Perhaps only four of
the prototype were ever built, all between 1882 and 1886
---

This lokey on Frank Goodyear's Four Mile Run is possibly a Dunkirk
Jeff Saxton used this and the below photo when he built my Dunkirk


upper photo from David Hoffman's THE GEARED LOCOMOTIVES OF DUNKIRK;
lower from Thomas Taber's THE GOODYEARS; AN EMPIRE IN THE HEMLOCKS
HOME

LINKS

More PHOTOS

Click below for pages in the directory of TrainWeb sites:
Visit our Rail Magazine promotion trading partners: (Click here to add your print rail magazine.)
About Us | Contact Us | Advertise With Us | Silver Rails Country for Train Enthusiasts
View TrainWeb.US Stats | Page updated: 01/21/2019 | Version 2021a10a | Links | &copy2015-2021 NordiLusta, LLC
---