Please help support this website by becoming a TrainWeb Patron for just $5 per month. Click here for more info.

---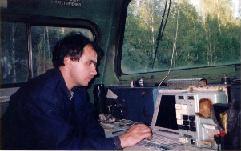 [ Russian language ]
On this page you can find information about software products, which are used for training and work in different railroad educational organizations and enterprises. We are ready to place here information about products, which were desinged and used in your organization, and, on your opinion, would may be interesting for locomotive specialists. We havn't ability for detail checking of all programs, so the responsibility for authencity of information is on its authors.
---
The authors are very interesting in your comments and suggestions about the contents of page and programs, which are described here. If you have it, mail us.
The last renewal is: 31. 07. 2002.
Click below for pages in the directory of TrainWeb sites:
Visit our Rail Magazine promotion trading partners: (Click here to add your print rail magazine.)
About Us | Contact Us | Advertise With Us | Silver Rails Country for Train Enthusiasts
View TrainWeb.US Stats | Page updated: 01/21/2019 | Version 2021a10a | Links | &copy2015-2021 NordiLusta, LLC
---