Content provided as an educational volunteer effort of the American Passenger Rail Heritage Foundation (APRHF), a 501(c)(3) non-profit organization.
Please help support the preservation and promotion of passenger rail heritage. Join the APRHF today! Website hosting made possible by our sponsors.
---
All photos by Otto Perry
Erie Built #8 is in Butte Montana on the Olympian Hiawatha in 1949.
Another view of #8 leading the Olympian Hiawatha through the rugged Rocky Mountains.

One of the Milwaukee's famous BiPolars tows the Olympian backwards towards Tacoma Washington in this scene from the 30's.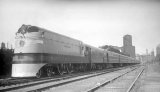 Perhaps the most famous members of the Hiawatha "tribe" were the Class A Atlantics.Here we see #3 in 1937.
One of the Class A's leads the Afternoon Hi out of Chicago in the 40's.
.
Click below for pages in the directory of TrainWeb sites:
Visit our Rail Magazine promotion trading partners: (Click here to add your print rail magazine.)
Newsletter | About Us | Contact Us | Advertise With Us | Silver Rails Country for Train Enthusiasts
View TrainWeb.US Stats | Page updated:12/22/2018 | Version 2018l22b | Links | &copy2015-2019 NordiLusta, LLC
---