Please help support this website by becoming a TrainWeb Patron for just $5 per month. Click here for more info.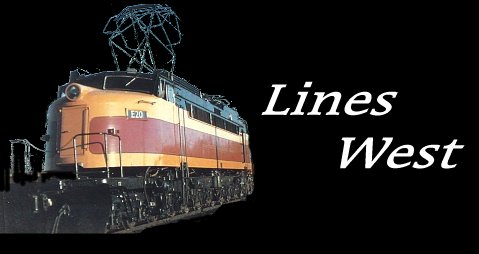 ---
"Lines West" Mention these words to a fan of the Milwaukee Road and immediately images of Little Joes,Bi-Polars and Boxcabs come to mind.These locomotives and the route they took through five ranges of mountains took on an almost mystical quality with the fans that were fortunate enough to see it in operation.Today,little is left but an abandoned roadbed,but the legend of the Milwaukee lives on in the memories of those that were there,and in the minds of those that wish they had been.
---
We start off with a sequence of photos taken by John Mosbarger in June of 1976.Unfortuately,the electrics are gone by this time,but plenty of evidence of them is still present as attested to by the catenary poles that line the right of way.The poles made shooting the Milwaukee difficult,but it was well worth it.
We start off with a shot of Extra #156 east sitting at the east switch of Newcomb siding,just east of Butte Montana.#156 is holding the main for a meet with a westbound which arrives shortly.....
Photo by John Mosbarger©
John was fortunate enough to have been granted a cab ride this day.Here we see Locotrol equipped SD40-2 #24 leading a westbound off of Pipestone Pass and into the siding at Newcomb.
Photo by John Mosbarger.©
Milwaukee shops built ribside caboose #992087 trails #24's train into the siding.
Photo by John Mosbarger ©
John wasn't able to ride the eastbound over the pass,however that allowed him to get some excellent shots of #156's train exiting Pipestone Pass Tunnel.In these three photos we can watch as 4 SD40-2's drag their heavy train over the Continental Divide.
Photo by John Mosbarger©

Photo by John Mosbarger.©
A maelstrom of smoke and sound accompanies the four SD's as they head east and onto the downgrade to Three Forks and beyond.
Photo by John Mosbarger. ©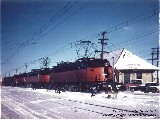 Little Joe E79 leads an eastbound train of 115 container loads at the crew change point of Deer Lodge Montana on a frigid February day.The Milwaukee was an innovator when it came to the transportation of COFC/TOFC traffic,hauling more than 75% of this business out of the Port of Seattle,versus the 25% for Burlington Northern and Union Pacific combined.
Photo © Michael Sol. 2/74
One of the Milwaukee's elderly ES-2's shuffles cars in Deer Lodge yard. The ES-2's were well liked by both crews and the mechanical department.With the current always available in the catenary,they accellerated quickly,which is a great benefit when it comes to kicking cars during switching operations.Mechanical loved them because they were very simple and durable motors.It was rare to find them in the shop.
Photo © Michael Sol 2/74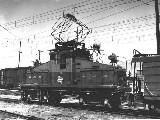 Here the hogger leans out the window of his ES-2 to see signals from his switchmen.In the days before radios,the engineer got all his instructions to move from the hand signs of the men on the ground.
Location and photographer unknown.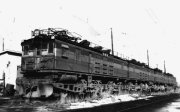 The GE Boxcabs were originally built as two unit motors in the years 1915-1917.Later,as train sizes and weights grew,they were combined into,first, three unit motors,and later four units.These old motors,in sets of four,could still outpull six F7's over the Coast and Rocky Mountain Divisions.
Location and photographer unknown.
One of Milwaukee's ES-2's broods it's future under stormy skies.
Photo by Dave Mewhinney,Deer Lodge Montana 1954.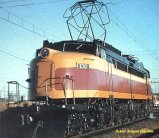 Here is a shot of EP-4 class #E20 resplendant in Milwaukee's orange/maroon/black passenger scheme.E20 and sister E21 were the only two Little Joes to be converted for passenger service.The rear cab in each had it's controls removed and a steam generator installed.Also,they were equipped with roller bearings on all axles for cooler running at sustained high speeds.They carried their low passenger numbers for their entire careers.
Location and photographer unknown.
Click below for pages in the directory of TrainWeb sites:
Visit our Rail Magazine promotion trading partners: (Click here to add your print rail magazine.)
About Us | Contact Us | Advertise With Us | Silver Rails Country for Train Enthusiasts
View TrainWeb.US Stats | Page updated: 01/21/2019 | Version 2021a10a | Links | &copy2015-2021 NordiLusta, LLC
---