Please help support this website by becoming a TrainWeb Patron for just $5 per month. Click here for more info.
Metrolink Photo Archive
A presentation by the Los Angeles Metrolink Historical Society

Vechicles & Special Equipment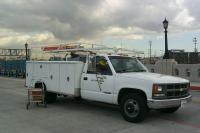 Metrolink Coach #130 at Los Angeles
(Click on the vehicle number for a larger photograph.)
Small Photograph

Num

Date, Location, & Who

Comments & Notes

884
March 18, 2000

Glendale Station

Peter J. McClosky

"Metrolink F59PHI #884" sits off the tracks awaiting for its crew to return. It is actually owned by Metrolink. The corporate relations department takes the van out to community events and transportation fairs and uses it to transport materials and giveaway items to potential riders. It was purchased in 1999.
(E)295889
March 6, 2000

Los Angeles Union Station

Charles P. White

General Maintenance Truck

This website is managed and maintained by Charles P. White. Please read and review the "How to submit your photos" page before sending contribution photographs. All photographs are copywrited by the photographers unless otherwise noted.

Return to Metrolink Photo Archive Homepage
Click below for pages in the directory of TrainWeb sites:
Visit our Rail Magazine promotion trading partners: (Click here to add your print rail magazine.)
About Us | Contact Us | Advertise With Us | Silver Rails Country for Train Enthusiasts
View TrainWeb.US Stats | Page updated: 01/21/2019 | Version 2021a10a | Links | &copy2015-2021 NordiLusta, LLC
---