CN 121
CN train 121 (Halifax, NS to Toronto, ON) is lead by Dash 9-44CW number 2589 at St-Philippe-de-Néri, QC (MP 33.6, Montmagny Sub), on June 15, 2002.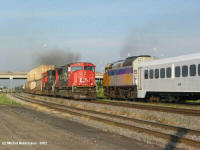 Head to head
CN's intermodal train 121 (Halifax - Toronto) lead by SD70I 5618 is meeting a suburban train bound for McMasterville at St-Lambert, QC, on August 2nd, 2002.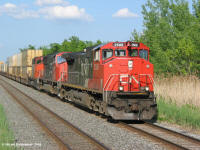 CN 121 at St-Hilaire
CN train 121 (Halifax, NS to Toronto, ON) at St-Hilaire, QC (MP 52.2, St-Hyacinthe Sub), on June 8, 2003.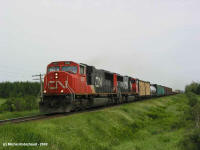 CN 403
After taking over CFMG's train 403 in Rivière-du-Loup, CN' train 403 is continuing westward, en route to Joffre, just opposite of Quebec City. MP 50.9, Montmagny Sub, June 30th, 2002.
CN 5694
CN's SD75I number 5694 is leading a westbound freight at St-Lambert, QC. June 1st, 2002.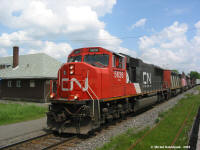 CN 327 at Drummondville
Train number 327 (Joffre, QC to Massena, NY) is passing in front of Drummondville Station (MP 98.3, Drummondville Sub) on Sunday, June 8th 2003.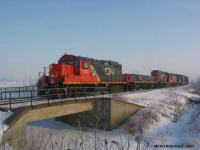 Sorel Turn
GP9RM 7275 is leading this westbound freight at Bruno Jct, on a bitterly cold morning. March 1st, 2003.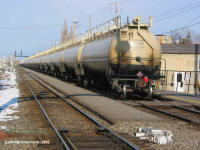 Ultratrain
CN's eastbound unit train no. 782, the Ultratrain is seen at St-Lambert, QC, on March 30th, 2002. The 4 - 17 cars sets will reach their final destination, St-Romuald's refinery, a few hours later.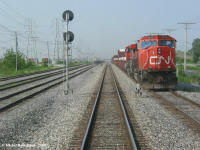 CN 368
CN 368 is waiting on a siding at Rivière-des-Prairies, MP 132.8 CN St-Laurent Sub, before heading to northern Quebec on a warm June 23rd 2003.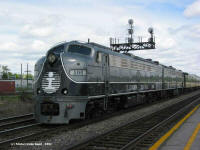 CN's Special X 00921-02
Bound for Toronto, CN's Special train X 00921-02 is rushing through Dorval Station, a few minutes after leaving Taschereau Yard in Montréal, QC.
On the lead is Illinois Central's E9AR number 100. June 2nd, 2002.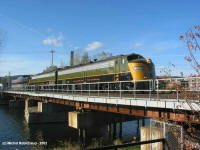 Special Deadhead move
Illinois Central's E9AR number 102 and 103, painted in green/black/yellow CN's passenger livery of the '50s, are moving private dome car California Zephyr toward Montreal's Central Station for a special activity to be held on the following day.
They are seen here over the Lachine Canal, MP 2.9 Montreal Sub, on November 3rd, 2002.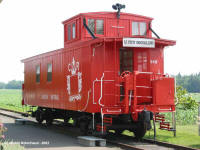 Caboose 78448
CN-Leaside rebuilt wood caboose number 78448 is on static display at Parisville, QC, at the entrance of the "Parc linéaire du Petit Deschaillons". This is a bike path built on CN's former Deschaillon Sub, abandoned in the '80s.
July 14th, 2002.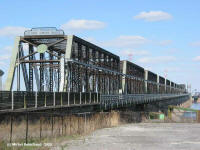 Victoria Bridge
The Victoria Bridge was opened in 1858, and rebuild in 1899 to it's actual aspect. It links Montreal, QC to St-Lambert, QC over the St-Lawrence River. Picture taken on April 21st, 2002.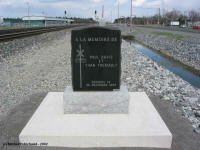 In Memoriam
On 30 December 1999, at approximately 1900 eastern standard time, CN Ultratrain No. 783 was travelling westward from Saint-Romuald, QC, on the north track of the Saint-Hyacinthe Sub. Near Mont-Saint-Hilaire, cars from train 783 derailed, fouling the adjacent south track. CN train No 306, which was travelling eastward on the south track at the time, collided with the cars of train 783 as they derailed. There was an explosion and some cars burned for more than four days, creating a smoke plume about 1,500 feet high. The two crew members on train 306 were fatally injured in the accident.
This stone was erected at the accident site in loving memory of Paul Davis and Yvan Thériault. Picture taken on April 7th, 2002.