Content provided as an educational volunteer effort of the American Passenger Rail Heritage Foundation (APRHF), a 501(c)(3) non-profit organization.
Please help support the preservation and promotion of passenger rail heritage. Join the APRHF today! Website hosting made possible by our sponsors.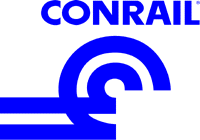 CONSOLIDATED RAIL
CORPORATION
History :
Created by the federal government on April 1,1976 seven bankrupt northeastern railroads: The Penn Central,Central of New Jersey,Reading, Erie Lackawana,Lehigh &Hudson, Pennsylvania Reading Seashore Lines and Lehigh Valley were merged into one company - Conrail. On March 28,1987 Conrail was sold by the Government to private investors. CSX and Norfolk Southern railroad became interested in buying Conrail during 1997. June 1,1999 became Conrail's last day of operations as an independent railroad with 45% going to CSX and 55% to NS. Conrail still has operations in three Shared Assets Area's, North Jersey, Detroit and South Jersey/Philadelphia as an agent for their parent railroads.
Click below for pages in the directory of TrainWeb sites:
Visit our Rail Magazine promotion trading partners: (Click here to add your print rail magazine.)
Newsletter | About Us | Contact Us | Advertise With Us | Silver Rails Country for Train Enthusiasts
View TrainWeb.US Stats | Page updated:12/22/2018 | Version 2018l22b | Links | &copy2015-2019 NordiLusta, LLC
---