Please help support this website by becoming a TrainWeb Patron for just $5 per month. Click here for more info.
Railway Stations of Ontario
---
Welcome to a comprehensive listing of railway stations within the Province of Ontario. The following document provides the location of all known remaining heritage stations constructed prior to 1960 that can be traced within the Province, originating from both steam and interurban lines. Maintaining this data base is a constant process. If you are aware of any additional stations not listed or have information on a status change, please e-mail myself, Rob Hughes at ontariostations@bell.net Your help is really appreciated.
---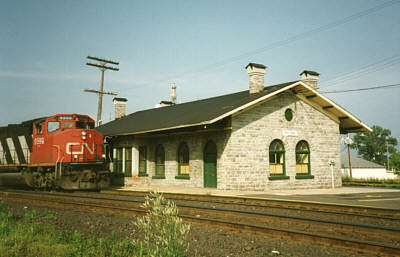 Port Hope CNR Railway Station
Photo: Rob Hughes
---
New Publication: Dundurn has published an updated version of Ron Brown's popular book "The Train Doesn't Stop Here Anymore: An Illustrated History of Railway Stations in Canada". The publication contains a number of references and pictures of stations in Ontario and across Canada.
Format Explanation:

Station: Indicates the name of the station as it would have appeared within applicable railway timetables.

Railroad: This column first indicates the most recent major corporate owner. The second notation states the year (approximately) when the line was constructed through the community. The third element notes the name of the railway that originally constructed the line referenced above.

Current Location: Indicates current location as of this writing. If such is not known by the author, the matter is stated as unconfirmed (term applicable throughout).

Current Use: States the present use of the building in its current location.

Date Built: This column first states the year in which the station building itself was constructed if known (approximately). The second element notes the company that constructed the station building (many times different than the company that constructed the line).

Building Material: Primary material used in the construction of the station as determined by the author.

Current Condition: States current condition as portrayed by the author. As many buildings have not been visited by the author, they are accordingly stated as unknown.

Notes: This category may indicate other general information of interest, including RSR number denoted by the Federal Government as per the provisions of the Heritage Railway Stations Protection Act..
Corporate Railway Abbreviations Used Within This Document:

ACHR: Algoma Central & Hudson Bay Railway
ACR: Algoma Central Railway
BLHR: Buffalo & Lake Huron Railway
BNPR: Brantford, Norfolk & Port Burwell Railway (GWR)
BOR: Brockville & Ottawa Railway
BQR: Bay of Quinte Railway
BWSR: Brockville, Westport & Sault Ste. Marie Railway
CAL: Canada Air Line
CAR: Canada Atlantic Railway
CCR: Canada Central Railway
CCRW: Central Counties Railway
CDPW: Government of Canada Department of Public Works
CGR: Canadian Government Railways
CNCP: Canadian National / Canadian Pacific joint ownership
CNoR: Canadian Northern Ontario Railway
CNR: Canadian National Railway
COR: Central Ontario Railway
COWR: Campbellford, Lake Ontario & Western Railway (CPR)
CPR: Canadian Pacific Railway
CSR: Canada Southern Railway
CSX: CSX Transportation
CVR: Credit Valley Railway
EHR: Erie & Huron Railway
EOR: Erie & Ontario Railway (THBR)
EORS: Erie & Ontario Railroad (CSR)
FESHP: Fort Erie, Snake Hill & Pacific Railway
GBLE: Georgian Bay & Lake Erie Railway
GBSR: Georgian Bay & Seaboard Railway (CPR)
GBWR: Georgian Bay & Wellington Railway
GER: Goderich - Exeter Railway (RailAmerica)
GGR: Galt & Guelph Railway (GWR)
GGRR: Guelph & Goderich Railway (CPR)
GJR: Grand Junction Railway
GRR: Grand River Railway
GSR: Glengarry & Stormont Railway
GTR: Grand Trunk Railway
GWR: Great Western Railway
HDSR: Hamilton & Dundas Street Railway
HGBR: Hamilton, Grimsby & Beamsville Electric Railway
HLER: Hamilton & Lake Erie Railway
HNWR: Hamilton & Northwestern Railway
HRR: Hamilton Radial Railway
HTR: Hamilton & Toronto Railway (GWR)
IBOR: Irondale, Bancroft & Ottawa Railway
JBR: James Bay Railway (CNoR)
KPR: Kingston & Pembroke Railway
LBPR: Lindsay, Bobcaygeon & Pontypool Railway (CPR)
LCLR: Leamington, Comber & Lake St. Clair Railway
LEDR: Lake Erie & Detroit River Railway
LENR: Lake Erie & Northern Railway
LGJR: The London & Grand Trunk Junction Railway (GTR)
LHBR: London, Huron & Bruce Railway
LPSR: London & Port Stanley Railway
LSJR: Lake Simcoe & Junction Railway
MCR: Michigan Central Railway
MOR: Montreal & Ottawa Railway (CPR)
MR: Midland Railway
NPJR: Northern Pacific Junction Railway (NR)
NR: Northern Railway
NGR: North Grey Railway (NR)
NSR: North Simcoe Railway
NSTR: Niagara, St. Catherines & Toronto Railway
NTQR: Napanee, Tamworth & Quebec Railway
NTR: National Transcontinental Railway
NYCR: New York and Ottawa Railway (New York Central Railway)
OAPS: Ottawa, Arnprior & Parry Sound Railway
ONR: Ontario Northland Railway
OPR: Ottawa & Prescott Railway
OQR: Ontario & Quebec Railway (CPR)
ORRR: Ontario & Rainy River Railway (CNoR)
OSHR: Ontario, Simcoe & Huron Railway
OVR: Ottawa Valley Railway (RailAmerica)
PDLHL: Port Dover & Lake Huron Railway
PDWR: Port Arthur, Duluth & Western Railway
PECR: Prince Edward County Railway
PHLB: Port Hope, Lindsay & Beaverton Railway
PMR: Pere Marquette Railway
PSTR: Port Stanley Terminal Railway
RL: RaiLink
SAR: Schomberg & Aurora Railway
SNR: South Norfolk Railway
SOPR: Sandwich, Windsor & Amherstburg Railway
SWOR: South Western Traction Company
TBL: Toronto Belt Line
TCPR: The Cobourg & Peterborough Railway
TGBR: Toronto, Grey & Bruce Railway
TGR: Toronto & Guelph Railway (GTR) - Toronto to Teeswater along with a branch through Orangeville to Owen Sound
THBR: Toronto, Hamilton & Buffalo Railway
TIR: Thousand Islands Railway
TLEP: Tillsonburg, Lake Erie & Pacific Railway
TNJ: Toronto & Nipissing Railway
TNOR: Temiskaming & Northern Ontario Railway
TOR: Toronto & Ottawa Railway
TSMR: Toronto, Simcoe & Muskoka Railway (NR)
TSR: Toronto Suburban Railway
TTR: Toronto Terminal Railways
TYRR; Toronto & York Radial Railway
VR: Victoria Railway
WELR: Windsor, Essex & Lake Shore Railway
WGBR: Wellington, Grey & Bruce Railway
WLR: Walkerton & Lucknow Railway
WOPR: West Ontario Pacific Railway (CPR)
WPLR: Whitby, Port Perry & Lindsay Railway
WR: Welland Railway
---

Copyright © 1998-2010 Robert J. Hughes
Railway Stations of Ontario Last Updated: April 2010
Click below for pages in the directory of TrainWeb sites:
Visit our Rail Magazine promotion trading partners: (Click here to add your print rail magazine.)
About Us | Contact Us | Advertise With Us | Silver Rails Country for Train Enthusiasts
View TrainWeb.US Stats | Page updated: 01/21/2019 | Version 2021a10a | Links | &copy2015-2021 NordiLusta, LLC
---