Please help support this website by becoming a TrainWeb Patron for just $5 per month. Click here for more info.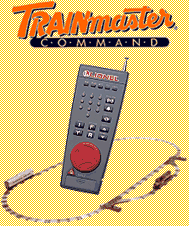 Remote Control Model Railroading
Using Lionel's Trainmaster Command System*
---
This site is dedicated to increasing awareness and promoting a dialog and understanding of runninng a O/O27 Scale Model Railroad using the Lionel TrainMaster Command Control System.*
Coil Couplers of America - Try an Interactive display of the Lionel TrainMaster System
This unique web site will enable you to try the Trainmaster System through an interactive and detailed display of the Cab-1 remote and all the functions it can perform.
---
Thanks for visiting Remote Control Model Railroading
*Lionel and TrainMaster are registered trademarks owned by Lionel LLC
Last modified on Friday, January 21, 2000
Click below for pages in the directory of TrainWeb sites:
Visit our Rail Magazine promotion trading partners: (Click here to add your print rail magazine.)
About Us | Contact Us | Advertise With Us | Silver Rails Country for Train Enthusiasts
View TrainWeb.US Stats | Page updated: 01/21/2019 | Version 2021a10a | Links | &copy2015-2021 NordiLusta, LLC
---