Please help support this website by becoming a TrainWeb Patron for just $5 per month. Click here for more info.
Rail Attractions in East End Toronto
Rail Attractions in Toronto's East End
---
CN Kingston and GO Subdivisions
This is CN's traditional backbone...the mainline from Toronto Union Station eastward to Montreal.
CN KINGSTON
SUBDIVISION

303.2

Oshawa

303.3

Oshawa West

304.9

Whitby

311.4

Pickering Jct

312.9

Pickering South

313.0

Liverpool

314.0

Durham Jct

317.3

Rouge Hill

321.2

Guildwood

323.2

Eglinton

325.2

Scarborough

327.0

Geco

328.6

Danforth

332.6

Cherry Street

333.2

Scott Street

333.8

Toronto Union Station
From Union to Durham Jct, this busy line is home to GO Transit, VIA, and local freight traffic. Some through freights also use the Kingston Subdivision. At Durham Jct, the GO Subdivision branches off and parallels the CN line east to Oshawa. At Pickering Jct, the CN York Subdivision, which runs across the top of Toronto to MacMillan Yard, joins the Kingston Sub, feeding frequent freight traffic onto the line.

The GO Subdivision was built in the 1980-1995 period, to extend GO service east of its original terminus at Pickering. In that era, CN-GO relationships were poor and GO began building its own right of ways to avoid the price of sharing CN lines with CN's own freight traffic.

The Kingston Sub climbs a steep grade from the Don to roughly Guildwood. There is a small industrial yard at Don. There are a number of good trackside accesses along this route, and many overpasses that provide good angles.

DANFORTH - There is an overhead bridge at Danforth (Main Street just south of the Main Subway station) with a good view for eastbounds.

GUILDWOOD - VIA shares use of the GO station; most VIA trains stop here. Scenery in this area is suburban with plenty of greenery near the tracks.

ROUGE HILL - East of Rouge Hill, the tracks run right along the shoreline. There is a nice park just east of the Rouge Hill GO station, right at the end of Lawrence Avenue. There are lots of nice places for photos in this area. Be careful at trackside, however - trains run at up to 100 mph on this route.

LIVERPOOL/DURHAM JCT - This is a fancy flyover junction just west of the Liverpool Road/Highway 401 overpass. Here, GO traffic separates from the Kingston Sub, creating two parallel double-track main lines heading east to Oshawa. This junction is referred to as Durham Jct.

Immediately north of the Junction, the York Subdivision angles in from the northwest, crossing over Highway 401 and the GO Subdivision on a long, curving bridge, and nestles in alongside the Kingston Subdivision between the two main lines. There are crossovers between the Kingston and York Subdivisions at Liverpool Jct, immediately east of Durham Jct and right under the Liverpool Road overpass. The single-track York Subdivision continues eastwards alongside the double-track Kingston Subdivision. It is considered a separate subdivision to its conclusion at Pickering Jct, but for all practical purposes the two subdivisions are really just one three-track right of way at this point.
Once upon a time at Liverpool Jct
PICKERING - The Pickering GO station is immediately east of Liverpool Road. (Don't confuse the Pickering GO station name with Pickering Jct...the latter is further east, beyone Brock Road, a mile and a bit east of the GO station.). Pickering has two separate passenger platforms: trains continuing to Oshawa use the GO Subdivision platforms on the north side of the trackage, while trains turning back at Pickering use a stub track running off the Kingston Subdivision on the south side of the tracks.
From this point eastward, all tracks run right next to Highway 401. Both Liverpool Road and Brock Ave in Pickering have large overpasses with enough sidewalk to stand safely. If you are using public transit, Pickering is the first GO station east of Toronto Union where you can see both GO/VIA and CN freight activity.
WHITBY - Another good spot for GO/VIA/CN, accessible by the GO train system from Toronto Union. There are two road overpasses right next to the GO station. Hotbox detector at mile 305 on the Kingston Sub.

OSHAWA WEST - Best spot on the CN/GO east of Liverpool is at the Hopkins Ave overpass.
It's the road running south off Victoria Ave to the COSCO/LASCO steel mill, halfway between Whitby and Oshawa. At that point there is a five-track mainline. The overpass is on a curve with great light and sightlines, especially nice with a long lens. At rush hour there is almost always a GO train in sight. The CP GM spur is visible on the horizon to the east.
OSHAWA - Another nice spot for the public transit-riding railfan.The VIA/GO station is right across from CN's Oshawa Yard. Canada's largest General Motors plant is located in Oshawa, and this is a busy spot for hot automotive traffic. Many through freights lift and set off here. CP's GM spur crosses overhead on a long bridge; both yard power and road jobs switch the GM yard. The CP Belleville Subdivision runs close by, on the north side of Highway 401. It's a fair walk from the station to the nearest road across the 401, but Oshawa Transit serves the VIA/GO station.
GO
SUBDIVISION

11.6

Oshawa North

10.7

Thickson

8.9

Whitby North

8.5

Henry

3.9

Harwood

3.5

Ajax North

1.0

Pickering North

0.8

Bayly

0.0

Durham Jct
---
CN Uxbridge Sub
CN UXBRIDGE
SUBDIVISION

51.1

Hagerman

52.1

Underwood

52.7

Milliken

55.5

Agincourt

61.0

Scarborough Jct.
Once a through line to Lindsay and Bancroft, the Uxbridge Subdivision now ends officially in Stouffville. Track remains in place to Uxbridge; the Stouffville-Uxbridge section is owned by the Ontario government and leased to the York Durham Historical Railroad, a new operating rail museum.

The Uxbridge Sub begins at a junction with the CN Kingston Sub at Scarborough Jct. It heads north through urban areas, paralleling the TTC's Scarborough LRT line from Eglinton Avenue to Ellesmere Avenue. South of Sheppard Avenue, the line ducks under the CP Belleville Sub just west of the entrance to CP's Toronto Yard. North of Steeles Avenue, the line crosses the CN York Sub at Hagerman, and winds its way northeast to Stouffville.

The Geco Spur runs west off the Uxbridge Subdivision just north of Scarborough Jct. This once ran southeast to connect with the CN Kingston Sub at Geco; recently the western end of this spur was deactivated.

The Uxbridge Sub has rush-hour GO Train service, Monday to Friday. There is some local freight traffic, mostly performing local switching.

CN Uxbridge Subdivision north of Hagerman

---
CP Havelock Subdivision
CP HAVELOCK
SUBDIVISION

166.2

Claremont

178.0

Connecting Track

180.3

Toronto Yard

181.5

Brimley

181.6

Agincourt

182.4

Kennedy
The Havelock Subdivision is CP's original route east to Montreal, now severed east of Havelock. This route is now an "Internal Shortline" and is officially named the Kawartha Lakes Railway. It still sees local traffic, to industries in Peterboro and the Nepheline mines at Nephton.

Most traffic runs at night. This line is being swallowed up by development in the Agincourt area, but east of the city there are some really pretty stretches.
The Havelock Sub crosses under the CN York Subdivision on the Ninth Line, north of Steeles and south of Highway 7, east of Highway 48 (Markham Road).

Map of the KLR - by Tony Borek
---
CP Belleville Subdivision
CP BELLEVILLE
SUBDIVISION

195.2

Staines

195.9

Neilsons

197.0

Toronto Yard

198.1

McCowan

199.5

Kennedy

204.2

Don Mills

204.8

Donlands

206.3

Leaside
This heavy mainline officially extends from Smiths Falls all the way to Toronto Union Station. The opening of CP's 'new' Toronto Yard in 1963 effectively added the west end of the Belleville Sub to CP's western Toronto access lines. East of Toronto Yard, CP freights on this line are fast, heavy, and nicely powered. You may see several in a row, but then there are often long quiet spells in between trains as well.

BEARE - East of Toronto Yard, the Belleville Sub crosses over the CN York Sub at Beare Road. This spot is at the upper end of Meadowvale Road, northeast of the Metro Toronto Zoo. Take Meadowvale north to its end at Plug Hat Road, then go east on Plug Hat Road, then go south on Beare Road to the CP tracks. There is room to park on the dirt trails on either side of the CN line. The bridge is a short walk from the road. This area is not patrolled frequently, but stay well back from the tracks in any event. While relatively crime-free, this area is secluded and attracts a fair amount of after-dark activity, mostly teenage partying and amour. Use caution in the wee hours.
NEILSONS - Another interesting spot is at Neilsons, which is where the connecting track from Toronto Yard's eastbound departures yard joins the mainline. It's on Finch Avenue, east of Markham Road.
DON MILLS - There are high trestles over the Don Valley at the intersection of Leslie Street and Eglinton Avenue, and again further east between Lawrence and Eglinton, east of the Don Valley Parkway. A level crossing on Wickstead Road is one place where you can get close to the tracks.
LEASIDE - The heavy double-track freight route becomes the CP North Toronto Subdivision at Leaside, heading west across North Toronto for the junction at West Toronto. The Belleville Sub continues, however, down the Don Valley to Toronto Union Station.
The site of the old Leaside station, near Millwood Road and Laird Drive, is a traditional gathering spot for fans, but is now regularly patrolled by CP police. The area to the west has plenty of open space and parkland, and also its share of ugly right-of-way fencing. The south side of the line between Bayview and McRae is accessible, try the gap in the fence near the Lowblaw's supermarket on Redway Drive. I've noticed a footpath running east from the Bayview end too but I've never gone in there.
CN no longer interchanges local traffic with CP at Leaside Yard. Many through CP trains still lift and set off here, however. A nocturnal switching assignment, "The Circle Job", heads down the Don Branch most evenings to switch industries at Don Yard.
Many mainline trains begin and end their runs at Toronto Yard, but some Belleville Sub trains continue west to the intermodal termini at Obico and Hornby. West of Toronto Yard, this is a very busy line carrying all of CP's traffic to and from western gateways. In the evening, it is not uncommon to find a backlog of eastbound trains waiting their turn to enter Toronto Yard.
Map of Leaside Yard - by Tony Borek
---
CP Toronto Yard
Located between Highway 48 (Markham Road) and McCowan Road, north of Sheppard Avenue and south of Finch Avenue, Toronto Yard is CP's heavy classification yard and locomotive facility for the lines east of Thunder Bay. It boasts an operating hump facility and a very busy diesel shop.
Driving into this yard is not advisable. The internal routes are not direct and it's easy to end up in places where visitors really shouldn't be. If caught by CP Police, expect to be charged with trespassing. The locomotive shops can be seen quite well from the side of the road on Markham Road. Yard power, and the eastbound departures yard, can be seen from the overpass on Finch Avenue at Markham Road.
The Belleville Sub mainline runs on the south side of Toronto Yard, but this route is mostly used as the westbound arrival and departure yard. Eastbound trains exit the yard on the north side, adjacent to the Havelock Sub, using a connecting track to reach the Belleville Sub at Neilsons Road. The connecting track can be accessed quite easily from Tapscott Road north of Finch, or on Finch near Morningside Road.
Expressway trains lift and set off from a new terminal adjacent to the yard.
Map of CP Toronto Yard - by Tony Borek
---
CP Don Branch
CP BELLEVILLE
SUBDIVISION

206.3

Leaside

209.5

Don

211.5

Toronto
Officially, this is the westernmost portion of the CP Belleville Subdivision. It runs from Cherry Street Tower northwards (eastwards, according to the timetable) up the scenic Don Valley to Leaside, where it connects with the North Toronto Subdivision.

The Don Branch was once the route of the famous CP Pool trains, and until 1990, local Budd car service to Havelock. Until recently, through freights and transfers used the Don Branch to reach downtown industrial yards. Now that most downtown industries have departed, the Don Branch is lightly used, mostly by industrial switchers serving Lever Brothers at Cherry Street. CP has placed this line up for sale - potentially as a commuter rail line - and has indicated it intends to abandon this route if no buyer comes forward.

The Don Valley is mostly natural parkland. There are many access points, generally via Bayview Ave. Best bet for catching a movement is on summer evenings when the sun stays out late.
---
CN Bala Subdivision
CN BALA
SUBDIVISION

15.4

Doncaster South

14.1

Old Cummer

11.3

Oriole

3.6

Rosedale

2.0

Don

1.2

Cherry Street

0.0

Toronto
The Bala Subdivision is CN's link to Western Canada, and to Northern Ontario via Washago and North Bay. It winds through the scenic Don Valley area. There are lots of nice places to walk in this area. Access is by foot or car in the vicinity of Bayview Ave in the south, and St. Dennis Drive and Eglinton further north. A walking trail extending from Wynford Drive/Concorde Place will take you into the valley with a view of the CP Belleville Sub trestle crossing the CN line.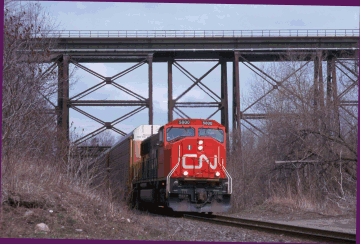 A short connecting line, the "Leaside Branch", formerly ran from Oriole on the the Bala Sub, in the Leslie/York Mills Road area, southwards to connect with the CP at Leaside.This line has been abandoned.
The Bala Sub crosses the CN York Sub at Doncaster, and continues north via the east shore of Lake Simcoe to Washago Junction, where it crosses the Newmarket Subdivision and continues north-west to Capreol.
The Bala Sub hosts the ONR Northlander between Toronto and Washago, and VIA's Canadian over the entire subdivision. The Bala Sub also has weekday GO rush hour service between Toronto Union and Richmond Hill.
CN Bala Subdivision north of Doncaster
---
Rail Exhibits at the Ontario Science Center
The Ontario Science Center is a well-known Science and Technology museum on Don Mills Road just south of Eglinton, within sight of the CP Belleville Subdivision. It has an excellent transportation exhibit...it's an excellent attraction, period. For more information check out the OSC's web site .
---
West Toronto Lines
Central Toronto Lines
North of Toronto
Halton Peel Lines
---
Webmaster: Paul Cordingley Toronto Ontario Canada
Our e-mail address: pcordingley(insert "at")rogers.com

Copyright © 1996, Paul Cordingley
Revised - February 28 2005
url:http://www.trainweb.us/railsintoronto/eastend.html

Click below for pages in the directory of TrainWeb sites:

Visit our Rail Magazine promotion trading partners: (Click here to add your print rail magazine.)

About Us | Contact Us | Advertise With Us | Silver Rails Country for Train Enthusiasts

View TrainWeb.US Stats | Page updated: 01/21/2019 | Version 2021a10a | Links | &copy2015-2021 NordiLusta, LLC
---