Please help support this website by becoming a TrainWeb Patron for just $5 per month. Click here for more info.
Rail Attractions in West End Toronto
Rail Attractions in Toronto's West End
---
CP North Toronto Subdivision
This is CP's heavy double-track route across central Toronto. From a junction with the Galt and Mactier Subs at West Toronto, the North Toronto Subdivision runs eastward through the City of Toronto to Leaside, where it connects with the Don Branch and the Belleville Subdivision. The North Toronto Sub officially ends at Leaside, but the main line continues eastward as the Belleville Subdivision. From Leaside, it climbs to the western throat of Toronto Yard, at McCowan in the suburb of Agincourt.
The North Toronto Sub is a busy line carrying all of CP's traffic to and from western gateways. Because of the urban environment, much of the North Toronto Sub is considered a "no parking" zone....so the RTC keeps 'em moving! Frequently, track work limits movements to single track across the city. This only serves to space out the action and keeps the fun going all day long.
CP NORTH TORONTO
SUBDIVISION

0.0

Leaside

3.4

Howland

5.5

Osler

5.9

West Toronto
OSLER - The line runs roughly parallel to Dupont Street from West Toronto to Avenue Road. Scenery in this area is urban industrial. There is a crossing at grade with the CN Newmarket Sub near Lansdowne Ave. Level crossings at grade can be found at Osler Street and at Bartlett Avenue. Fans gather at the Osler Street crossing, as it's one of the few places in the area where one can shoot from public property.
HOWLAND - Many trains switch "P66", a setoff track in this area. This area is mostly industrial.
NORTH TORONTO - At Yonge Street, CP's venerable North Toronto station, a large passenger depot dating from pre-Union Station days, still stands. CP moved its passenger operations to Toronto Union Station in 1930; in the following decades North Toronto housed liquor and beer outlets, with its finer points hidden behind false ceilings and (bland) modern decor. It was redeveloped in 2001-2002; the new motif has restored the public areas to their original grandeur with the passenger-depot features largely preserved. The renovated LCBO Liquor Store is open seven days a week, with browsing and sightseeing welcomed. Check out the developer's web site with photos from past and present.
East of Avenue Road, the environment changes from industrial to trendy urban residential. There are some lovely homes and plenty of gaps in the fencing. Don't get too close to the tracks, or linger too long, however, as the area is patrolled regularly by CP railway police. East of Yonge Street, there is plenty of open space with good photo vantages, including viaducts over Mount Pleasant Road and the Moore Park ravine.
LEASIDE - OLD BRIDLE PATH - The prettiest place to watch CP in Toronto is the footbridge over the North Toronto Sub at MP 1.4....intersection of MacLennan Ave and Carstowe Road. Carstowe runs east of Mount Pleasant south of St Clair. Or, for an easier way in, take St Clair east from Mount Pleasant, go one block to Welland Ave, turn south, jog onto MacLennan, follow it south to the tracks. Park on Old Bridle Path which is about as ritzy a street as you can get. Or, take the Rosedale bus from the Rosedale or Sherbourne subway stations, it stops right at the bridge
This is a really pretty spot in the better part of town (bring your Globe and Mail to check out your rail stocks between trains). You'll need a pair of pliers to coax the fencing holes wide enough for your lens (don't cut the fencing over the tracks, there are too many rock-dropping delinquents in the city!)
And while you're there, admire the railfan dream homes on Summerhill Ave, on the south side of the tracks immediately east of MacLennan, with the big picture windows looking out at the tracks! The first building, Nos 392-394 Summerhill, is one of the oddest buildings in Toronto, the kind that would be laughed off your layout if you tried to model it. The house is a duplex....it's about 10 feet wide and 90 feet long.
Another nice shot is from the street bridge on Governor's Road...shoot north broadside onto the rail bridge over a ravine in a very natural setting.
---
The Parkdale Corridor
The Parkdale Corridor is a wide open right of way running from Bathurst Street to roughly West Toronto. CN's Weston Subdivision and CP's Galt Subdivision parallel each other from Bathurst Street to West Toronto. CN's Newmarket Subdivision branches off from the Weston Sub at Parkdale, just north of Queen Street.
This corridor sees weekday GO service on all routes, and some VIA activity, including CP's triweekly Canadian which leaves Toronto Union at 9AM on Tuesdays, Thursdays, and Saturdays for the Newmarket Sub at Parkdale. Freight traffic is minimal. CN and CP use this line infrequently as a detour route when their normal freight lines are blocked or congested. Look for GO Transit to take ownership of the CP line from West Toronto to Bathurst Street.
PARKDALE - The old Parkdale Yard and express sheds are now just a vacant field. It's easy to reach the tracks from the south side of Queen Street, at the east end of the underpass. You will see lots of people walking along the right of way in this area, but beware - trespassers do get ticketed if caught.
DUNDAS - A good overhead bridge crosses the line at the intersection of College and Dundas Streets in north Parkdale.
DUPONT - There is a good overhead footbridge about half way between Bloor and Dupont Streets, accessible from the east side of Dundas Street. It's an easy walk north from the Dundas West subway station.
The area between Parkdale, West Toronto, and the CP/CN junction at Dupont and Lansdowne Avenue is known as the 'Junction Triangle'. The city's traditional railway district, it's now somewhat run-down, and it's infamous for the industries which apparently have been careless with toxic chemical spills over the years. It's safe enough to visit in daytime, you just might not want to live there.
---
CN Weston Subdivision
CN WESTON
SUBDIVISION

0.0

Toronto

1.1

Bathurst St.

1.5

Strachan

2.5

Parkdale

4.0

Bloor

5.1

West Toronto

5.3

Keele

8.6

Weston

9.4

McGill

11.0

Etobicoke North

12.5

Woodbine East

14.1

Woodbine West

14.7

Malton

17.0

Halwest
The Weston Subdivision runs from Bathurst Street (Toronto Union Station) to the Halton Sub at Halwest, northwest of Etobicoke. Before 1965, when the current Halton Sub was opened, this route formed the east end of the former Brampton Subdivision.
The Weston Sub is one of the lines in the Parkdale Corridor.
WEST TORONTO - West Toronto was Toronto's traditional Canadian Pacific railway neighbourhood, but Canadian National and its predecessors maintained a significant presence here too. CN's West Toronto Station, located on Old Weston Road just north of the CPR diamond, was razed a few years back. Express sheds and yard trackage serving the old Stockyards have also disappeared in recent years. At Old Weston Road, there is a CTC-controlled connecting track to CP's Mactier Subdivision. It's used daily by a CN transfer to deliver interchange traffic to CP's Lambton Yard.
WESTON - From West Toronto to McGill, the Weston Sub runs beside the CP Mactier Sub, parallel to Weston Road. There are open areas with good photo opportunities between Rogers Road and Weston. A second connecting track at Weston (Lawrence Avenue) is used irregularly by CP-CN to detour trains when either the CN or CP transcontinental route is blocked by track work or derailment.
McGILL - There is a pretty bridge over the Humber in natural terrain just south of Highway 401, west of Weston Road. From McGill westwards, the route is pretty well all industrial areas and not at all scenic.
The Weston Sub sees VIA trains to Kitchener, London and Sarnia. This is GO Transit's second all-day route, with both frequent rush-hour service and mid-day GO Trains on weekdays. The section from Halwest to Rexdale sees frequent local switching activity, mostly on weekdays. CN interchanges with CP at Lambton Yard via a connecting track at West Toronto. There is virtually no through freight traffic. CN's Montreal-Toronto Roadrailer takes this route to its terminal at Malport, but runs at night.
---
CN Newmarket Subdivision - South of Snider
CN NEWMARKET
SUBDIVISION

12.9

Snider

12.1

Snider South

9.2

Spicer

6.4

Fairbank

4.6

Davenport

2.4

Parkdale

The Newmarket Subdivision runs north from Parkdale, crossing the CP North Toronto Subdivision north of Dupont Street. It runs northwards through the city, crossing the CN York Sub at Snider, and then north towards Bradford. There is a road overpass at Eglinton Avenue; many fence gaps and back alleys provide access to the tracks.
In the Central Toronto area there is very light industrial traffic and one or two transfer movements daily. Through freights often detour over the Newmarket Sub from Snider to Parkdale.
The Newmarket Sub was Toronto's first railway line. The Toronto-Aurora segment opened in 1853; later additions brought the route to North Bay and on to Capreol. Sadly, this route has been abandoned north of Bradford. It still sees daily rush-hour GO commuter service between Parkdale and Bradford. VIA's Canadian uses this line three times a week, on Tuesday Thursday and Saturday mornings.
CN Newmarket Subdivision - North of Snider
---
CP Galt Subdivision - Bathurst Street to Dixie
CP GALT
SUBDIVISION

0.0

Toronto

1.1

Bathurst St.

2.3

Parkdale

3.5

Dundas

4.3

Dupont

4.9

West Toronto

5.8

Lambton

6.8

Scarlett Rd.

7.3

Humber

7.5

Royal York

8.9

Bloor

9.6

Obico

9.7

Kipling

12.4

Dixie
The Galt Subdivision runs from Bathurst Street, northwest to West Toronto, then west towards London. The Galt Sub is CP's main line from Toronto to Detroit, and also provides the link to two routes linking CP's Toronto lines to Hamilton and the Buffalo gateway.
From Bathurst Street, the Galt Sub runs close to Dundas Street all the way to Cooksville. The Bathurst Street to West-Toronto section is used for weekday GO trains, but only sporadically for freight. CP recently offered this line for sale to GO Transit.
The line is very busy from Lambton westwards. GO Trains run Union-Milton on weekdays.
There are good trainwatching and photo locations in the Humber River area, with parkland, bicycle trails, and natural environment around the river valley.
Map of the Galt Sub GO Service - by Tony Borek
SCARLET ROAD - There's a pretty bridge over the Humber, just north of Dundas Street. A good parking lot and public park with access to the Humber valley can be found behind Lambton Arena, on Howland Street (don't confuse this location with Howland Ave; the latter is further east on the North Toronto Sub). Turn north at the first stoplight on Dundas, west of Scarlett Road and east of the Humber road bridge. Foot trails and paths through the Hydro right of way lead to the bridge and to parkland in the Humber River valley. The footings of a former tower, likely part of the old Toronto Suburban Railway interurban line to Guelph, can be found beside the tracks west of the hockey rink. You can also see the path of the old Toronto Suburban Railway crossing of the Humber River in this area.
ROYAL YORK - It's hard to reach the tracks west of the Humber River bridge, but you can shoot the bridge from behind the commercial buildings on Dundas. CP's "Detector, mile 7.4 Galt Sub", which can be heard through most of Toronto, is located behind the Rona Lumber yard. There is more open land west of Royal York Road, with parking at the arena on Montgomery Ave.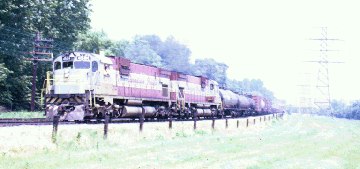 Montgomery Road in the good old days
OBICO - Obico is a major intermodal terminal. The Canpa Subdivision (aka "The Cutoff") diverges at Obico, just west of Kipling Ave, and runs south to the CN Oakville Sub at Canpa. I have heard two stories about the origin of this station name: one, that it's simply a short form of the township name "Etobicoke" (pronounced E-Toe-bickoe"); two, that it's the abbreviated name of a coal dealer who once was located here - "Ontario BItuminous Coal"
Map of Obico Yard - by Tony Borek
KIPLING - The combined GO/TTC Subway station is immediately west of the Kipling Avenue overpass. The TTC station gives a great view of the rail line, particularly the Obico yard lead. There is a nice parking spot in a pay lot (it's free, and empty, on weekends) just west of the Subway station on the north side.
427 - is the station name for the tracks right under the Highway 427 overpass. Many Windsor-Toronto trains stop here to set off and lift intermodal freight at the "South Service Track", a siding on the south side of the mainline west of Shorncliffe Road. You can get to the tracks by taking the roads running along either side of the 427 Highway, north from North Queen Street: Index Road on the west side of the 427 overpass, and Collector's Road on the east side.
There is a nice bridge over the Etobicoke Creek, with room to park nearby, access from the West Mall.
DIXIE - There is more open access in Mississauga, west of Etobicoke Creek. One good spot is south off Dundas on Loreland Road, it's a level crossing at the west end of the Dixie interlocking plant.
A local oddity: train numbers do not correspond to track direction. Montreal-Toronto-Detroit traffic is considered as east-west, so westbounds have odd numbers, eastbounds have even numbers. HOWEVER Toronto-to-Buffalo trains are considered as North-South, so 'westbounds' have even numbers and 'eastbounds' have odd numbers. And eastbound trains from Windsor who are destined for western Canada via the transcontinental line carry their (odd) transcon line numbers on this route. It helps to have a program.
Galt Sub west of Dixie to Guelph Jct
CP Galt Sub West of Guelph Jct (Bill Miller's Web Site)

---
West Toronto
West Toronto is the junction of the CP Mactier, Galt, and North Toronto Subdivisions and the CN Weston Subdivision. It's a complicated junction with a three-sided wye.
West Toronto is roughly bounded by Dupont, Old Weston Road, Keele, and Symington Aves. It's an older industrial area, fairly safe but seedy. Nifty track arrangement but no really good public access areas. Try parking in the lot behind the ex-Canadian Tire store on Keele Street just north of Dundas, or the back lanes running north off Dundas east of Keele Street. Recently, Big-box stores have sprung up on the former railway lands on the south side of St Clair Ave west of Keele Street. The area south of the Rona store is a great spot to park and watch trains.
The Osler Ave crossing at grade is the best place for Mactier and Galt Sub movements. Fans congregate here but it's not a very comfortable location. Old Weston Road crossing is OK for CN and for movements on the west-to-north connecting track from Lambton Yard to the Mactier Subdivision.
The CN Newmarket Subdivision crosses CP's North Toronto Subdivision about a half-mile to the east.
---
CP Mactier Subdivision
The Mactier Subdivision is CP's transcontinental main line. It runs from West Toronto north-west to Bolton, and eventually westwards to the Pacific.
CP MACTIER
SUBDIVISION

0.0

West Toronto

3.5

Lawrence

3.9

Weston

6.5

Sheppard
WEST TORONTO - CP recently built a connecting track from the Mactier Sub to Lambton Yard, permitting through movements from the Detroit-Toronto corridor to the western Canadian mainline. Some Mactier Sub trains turn westwards at West Toronto and proceed on to Obico and beyond, while others run eastwards to Toronto Yard.
Northward from West Toronto, the Mactier Sub parallels Weston Road. There are good open areas for photos from St. Clair Ave north to Lawrence. There are level crossings at Ray Ave (north of Eglinton) and an overhead road bridge at Jane Street. North of Lawrence, there are several level crossings on side streets running north of Weston Road . North of Highway 401, the Mactier Sub enters a wasteland of light industrial development. The countryside resumes north of Steeles, although suburbia is fast overtaking the line pretty well all the way to Kleinburg and beyond.
This was once a busy line, but times are changing. Intermodal traffic to/from Western Canada is yarded at Vaughan, to the northwest, so some transcontinental trains don't come into the city itself. CP is running longer but less frequent trains on this line. And, many of the hot trains are scheduled to run at night. Consequently, it's a tad slow during daylight hours, but when you see a train it's often a huge one.
There is frequent local switching by the "Emery roadswitchers" and "Spence Turns/Honda Specials", the latter moving hot auto traffic to and from the Honda plant in Alliston.
CP Mactier Subdivision north of Sheppard
---
CP Lambton Yard
Lambton, a large classification yard, was CP's main steam-era facility. It's located on the Galt Sub just west of West Toronto. St. Clair Avenue runs beside the yard on the north side, and Dundas Street runs along the south side. Most east-west manifest freights call to lift and set off. Many local jobs originate here.
The Yard office is on the north side of the yard at Runnymede Road. It's visible from St. Clair Ave at Runnymede. Local power ties up at the yard office and can be observed from the parking lot. Reception ranges from warm to hostile. Do not enter the yard itself.
Trivia note for fans of the band Barenaked Ladies ...the song Jane was inspired by the intersection of Jane Street and St Clair Avenue, midway down the yard. Drop by and hum a few bars, the location is a lot plainer than the song !!!!
A freight terminal which stood on the site of the old Lambton roundhouse in the mid-sixties was demolished in 2004, and a Wal-mart store now stands on the site. This is good news for fans....the parking lot gives a great view of the power tied up by the yard office.
Further east, the old shop buildings once were found on West Toronto Street, which runs west off Keele south of St Clair Ave. A horde of mega-stores now stand on this site. You can see the old turntable and transfer table, semi-preserved on the north side of the yard, just south of the Rona store. This is another decent spot to park and watch trains enter and leave Lambton yard.
Ray Kennedy, a long-time CP employee, has chronicled the history of this yard. Check out Ray's web site.

---
CP Canpa Sub (aka The Cutoff)
The Canpa Subdivision is a short main line which runs from Obico on the Galt Sub (Kipling-Dundas area) south to the CN Oakville Sub at Canpa. The Canpa Sub is the traditional main line for CP Toronto-Buffalo traffic. Most through trains now use the Galt Sub to Guelph Jct., then south via the Hamilton Sub to Hamilton Junction. CP still uses the Oakville Subdivision when time is critical; Intermodal trains 166/167 still use this routing regularly. The Canpa Sub still sees roadswitchers from Lambton to customers along the CN Oakville Subdivision. CP once ran several trains handling auto traffic to/from Ford at Oakville, but this traffic was lost in the late 'nineties. The Burlington Turn generally leaves Lambton in the early evening for Clarkson and beyond, and the Canpa industrial job prowls industries along this line.
An industrial spur, "Area H", runs south from the Canpa at Bloor Street into the industrial park east of Kipling Avenue.
It's an industrial environment. Best photo locations are the crossings at grade on Evans Ave or on Horner Ave west of Kipling. You can also get close to the tracks directly under the Queensway Avenue overpass.
---
CP Obico Yard
Obico is one of two intermodal terminals in the Toronto area. It handles intermodal traffic to the Galt, Belleville, and Hamilton Subdivisions. Obico is located on the south side of the Galt Sub, west of Kipling Ave and south of Dundas Street. It's a stub-end facility that stretches south from the Galt Sub to North Queen Street.
Obico normally boasts one or two sets of CP's "mother/daughter" switchers, usually a Geep and an SW1200 yard slug pair. The yard jobs work at the north end, west of the Hydro transformer station. The yard lead can be reached from the west end of the Kipling Subway station or from behind commercial buildings on Dundas Street.
Trains call at all hours, but the main event is the overnight piggyback train to Montreal, which is built late in the afternoon and originates in the early evening.
Stay out of the yard itself. There is heavy security and constant truck traffic in the terminal. Nothing worth seeing in there anyways.
Galt Sub trains with intermodal lifts/setoffs use the "South Service Track" which runs from Obico west to Highway 427. Just east of The West Mall is a container and railcar storage area referred to as 'The Annex'. Access by Index Ave and Collectors Road, north off North Queen Street. CP frequently uses the No. 1 main track - the northernmost track - as a siding in this area.
Map of Obico Yard - by Tony Borek
---
CN Oakville Subdivision - Bathurst Street to Dixie
CN OAKVILLE
SUBDIVISION

0.0

Toronto

1.1

Bathurst Street

1.8

Fort York

2.0

Exhibition

2.5

Dufferin

6.2

Mimico East

6.7

Mimico

8.4

Canpa

9.6

Long Branch

11.5

Port Credit East
The Oakville Subdivision runs from Bathurst Street (west of Union Station) west to Hamilton. This is CN's original east-west mainline.
It's mostly three or four tracks, and it's very busy with GO and VIA traffic. Some freights use this route to bypass the freight line north of the city. There is also local freight and industrial service. CP has trackage rights west of Canpa; CP is on-again,off-again in its use of this trackage for through Toronto-Niagara movements, but runs local jobs between Lambton, Oakville, and the wye at Burlington.
DUFFERIN - There are several overhead bridges in the South Parkdale area; the most easterly is at Strachan Avenue at the east end of the Canadian National Exhibition. The north side of the line is easily reached from the back streets south off King between Dufferin and Strachan Avenue.
There is a neat footbridge over the tracks at Sunnyside (Roncesvalles-King-Queen intersection), next to the TTC street car barns. It's a very pretty spot, with constant streetcar traffic to watch between trains. There is unfenced access to the tracks west from Sunnyside to the Humber, and then much parkland east of Mimico GO Station, but with high fences.
This section of the line is busy all day long. At rush hour the trains run on streetcar headways, an impressive show! In addition to scheduled service, both VIA and GO make frequent deadhead moves between Union Station and their maintenance facilities in the west end. You'll see multiple consists marshalled together for the deadhead move.
CANPA - The CP's Canpa Subdivision connects with CN at Canpa. An interlocking tower stands (but is no longer manned) at Canpa. You can access it at the north end of Twenty-Sixth Street, north from Lakeshore Boulevard. In the past, this was an important junction for CP traffic, but lately it sees the odd industrial switcher and a couple of roadswitchers bound to/From Oakville and Clarkson.
There are more nice parks on the south side of the tracks between Twenty-Sixth Street and Thirtieth Street in Long Branch. There are several level crossings at grade with decent lines for photography in the sidestreets west of Etobicoke Creek in Mississauga.
CN Oakville Subdivision - Dixie to Bayview

---
CN Mimico Yard
GO Willowbrook Yard
VIA Toronto Maintenance Center ("TMC")
These three facilities lie in a large yard area on the Oakville Sub between Royal York Road and Kipling Avenue, south of Evans Avenue (which is south of the QEW).
Mimico was CN's main steam-era terminal in Toronto. Visitors who remember Mimico from the steam days won't recognize it, but they won't be disappointed either.
GO Transit's maintenance facility ("Willowbrook Yard") is on the north side of the mainline. VIA's Toronto Maintenance Center ("TMC") is on the south side. VIA frequently wyes its consists on an industrial track running southwards across New Toronto Street. CN has a small freight yard further west on the south side; CN power sometimes ties up at the west end near Kipling Ave and New Toronto Street.
The former CN Mimico Station lies in ruins, behind an ugly green fence, on the north west quadrant of the underpass at Royal York Road. A couple of old shop buildings remain on New Toronto Street and Dwight Ave, on the south side of the property.
Don't even think about going into the VIA/GO yards. Visitors are not tolerated - period. Fortunately, there is an excellent view from the Islington Ave overpass.
---
East Toronto Lines
Central Toronto Lines
North of Toronto
Halton Peel Lines
Copyright © 1996, Paul Cordingley
Revised - May 3, 2005
url:http:/www.trainweb.us/railsintoronto/westend.html
Click below for pages in the directory of TrainWeb sites:
Visit our Rail Magazine promotion trading partners: (Click here to add your print rail magazine.)
About Us | Contact Us | Advertise With Us | Silver Rails Country for Train Enthusiasts
View TrainWeb.US Stats | Page updated: 01/21/2019 | Version 2021a10a | Links | &copy2015-2021 NordiLusta, LLC
---