Content provided as an educational volunteer effort of the American Passenger Rail Heritage Foundation (APRHF), a 501(c)(3) non-profit organization.
Please help support the preservation and promotion of passenger rail heritage. Join the APRHF today! Website hosting made possible by our sponsors.
December 1996 Trip to Redding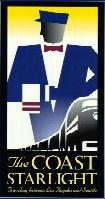 Even if one were to travel the same route on a train twice a year or more, the experiences would be different each time. When I travel by train, I like to plan it months in advance in order to obtain the best fares and guaranteed sleeper assignment. I had the week following Thanksgiving off this year because I was not able to get any time off at Christmas. I had plans for the Thanksgiving weekend, but afterwards I had an entire week off. The week before Thanksgiving, I thought "how about a trip to Redding to see grandma?" I called her up and it was OK as far as she was concerned. Next, I called Amtrak, knowing in the back of my mind that there would be no seats or economy bedrooms at this late date and fares would be sky-high! Much to my surprise, the rail fare was only $40 higher than a 6-month advance purchase but the economy bedroom price was $30 less than last summer's rate! Go figure? I made a reservation.

2 December, 1996

It was a sunny day with scattered high clouds and mild temperatures. Perfect train riding weather. My brother-in-law drove me to the station and let me off around 11:50am, 15 minutes before scheduled departure. Since he was on the way to a job, he couldn't stay for the train so I just listened on my scanner for some excitement. 12:05 came and went, no #14 or announcement of it's arrival. I learned from my scanner that there was a broken rail that was being fixed 20 miles south of us and that #14 was held up for 15 minutes. Fortunately, the rail repair was in its final stages so trains could proceed over the repaired rail at 10mph. At 12:20, #14 pulled in and I wanted to board the last car on the train, only to be told to go forward four coaches! What happened was I had waited for three minutes outside the last car just to be told to go four coaches ahead. By that time, the conductor was yelling "BOARD!"I was upset but later realized that I'm always in the coach directly behind the sightseer/lounge car because it's the only car opened in Redding at 2:52am. With the running around, I almost missed the train—doors began slamming behind me as I ran down to the proper coach.

Once aboard, I was able to relax. I was put in seat #38 which is very close to the stairwell. I don't mind sitting close to the stairwell too much except that during the night when all the lights are dimmed, THAT particular light at the stairwell is not! I figured I would just go to the sightseer/lounge and sleep there after Davis. The conductor collected my ticket and at that time, I went to the sightseer lounge car to take in the Pacific Ocean views. The train arrived San Luis Obispo at 2:46pm, four minutes early, only to depart 10 minutes late due to the lagging smokers wanting that last puff. I think we even left somebody behind! The car I was in had the "Kiddie Lounge" downstairs and the car was therefore named the "Kiddie Car." Oh great!!! It never fails that I get put with crazy children. Actually, they were very quiet and were all downstairs being entertained by the onboard magician. I think that's a great idea to put someone on board to please young riders as it keeps them occupied and out of the way. The crew doesn't like to baby sit children with lax parents! The announcements were very difficult to understand due to the low volume of the PA system. I looked for a volume control around the speakers but found nothing (it's probably located downstairs where the car attendant controls the Intercom). I didn't care about most of the announcements except when the dining car chief would be coming through with dinner reservations!

After departing Paso Robles five minutes late, the dining car chief came through and I made my dinner reservation for 7pm. Since I had brought lots of left over Halloween candy along, I was not very hungry yet. Our sister train, #11 was running 2.5 hours late and we met it around 5pm to stop and pass over a few items, including some bags that a passenger had left aboard our train at San Luis Obispo!

For dinner, I had baked chicken breast, scalloped potatoes and steamed vegetables. For desert, apple pie a la mode. I sat with a very interesting couple on their way to Vancouver, Washington. They had been visiting their son in the Los Angeles Area. The husband is a World War II veteran where he was an artillery loader/specialist on the front lines in France in 1944. He was captured by the Germans and taken to Poland, spending 9 days in a freezing boxcar with NO food! I'm surprised he can even ride a train again! He and three other prisoners escaped after nine months of captivity. An incredible true life story. The other gentleman sitting next to me was returning to Martinez from San Luis Obispo after visiting his daughter who attends Cal Poly, my alma mater. We exchanged email addresses and I returned to my seat.

We arrived in Oakland at 8:30pm and the rear coach car was taken off by AMTK switcher #736 and delivered to the Oakland Coach Yard for tomorrow's #11 back to Los Angeles. I saw lots of Amtrak California rolling stock in the Oakland Coach Yard so I assume that's where all the San Joaquin Trains are dead headed for the night. Also, I noticed lots of Horizon fleet cars parked in Oakland. I saw a consist of 12 of them and many others sitting by themselves. The only power I saw was Amtrak California #2008 and AMTK #223.

After arriving in Davis a half an hour late, the train really emptied out and I moved across the aisle away from that bright stairwell light. The seats I moved to were only one of four pairs of seats that have a wall in front of them and have extra leg room. From then on, I actually slept for about two hours! I remember the stop in Sacramento as we were actually ON TIME! That was very short lived as the lead locomotive, #803 was running on vapors! The tanks showed empty and the new crew was astonished that we even made it. The next 30 minutes was spent fueling #803. I dozed the rest of the way until I got off in Redding, 35 minutes late. We would have arrived only 10 minutes late but we were put in the Girvan siding just before the depot to wait for #11 to leave the station. #11 was 1:10 late.
Coast Starlight, #14 Consist 12/2/96
AMTK 803
AMTK 801 back-to-back
Baggage
Transition Sleeper
3x Sleeping Cars - Superliner II
Pacific Parlor Car
Diner
Sightseer Lounge
5x Coaches - Superliner 1 cars with new paint scheme.

It rained for most of my visit so I didn't get a chance to railfan along the Shasta line. My grandmother lives only three blocks (long blocks) from the tracks but it was too cold to watch trains. I was there to visit. Besides, I would be going home in three days from when I arrived.

6 December, 1996

Right after my grandmother and I arrived at the depot, a Northbound freight rolled through at 50mph. The Redding switchers were parked on a spur track at the station and one of the units was already painted UP colors. I don't know if it was an SP switcher to begin with and painted later. #11 rolled into Redding at 2:35am, 16 minutes late because it had to meet that Northbound freight at the Silverthorn siding. In my sleeper, room #6 which faced to the West, things seemed to be in order but I didn't see a meal voucher like there usually was. The night light didn't work either but I didn't care since I don't use it anyway. I just like to check to see if everything works in my room. The sleeping car I was in was the "Wyoming" car #32118. I hung up my long wire "J-pole" antenna (improves scanner reception), plugged in my scanner to the AC plug and left it on all night at a low volume so I could hear the detectors or any relevant traffic. I slept very well and I dreamt of detector voices! I assume the sounds from my scanner were incorporated into my dreams. Very strange. I awoke about 6:30am and we were pulling out of Sacramento. Skies were overcast and it looked like rain was on the way. I dozed off and awoke as we left Davis and I decided it was time to get up.

For breakfast I had the Coast Starlight omelet, hashed browns, sausage patties (the patties looked fake but were very tasty), orange juice and coffee. I only had two cups of coffee as it was mediocre at best. I tried a cup in the Pacific Parlor car on the way back to my room but it was equally mediocre. Must be the roast they were using. Sitting across from me was a woman on her way to Glendale from Kelso, Washington. She said that she has been suffering motion sickness the entire trip and I must admit that during breakfast, I seriously thought she was going to loose it at the table! I was ready to bolt out of my seat if things got….ugly. I told her to look at the horizon where it meets the most distant object she can see, such as a mountain. For seasickness, gazing at the horizon is supposed to help get your equilibrium back. I'm sure that watching me devour all that food didn't make her feel any better!!! For me, it hit the spot except that lousy coffee. OK, I said it was mediocre when I meant to say it was just plain lousy. Joining us was a mother and daughter on their way to Yuma, AZ from Eugene, OR. The woman was kind of goofy and her daughter was doing all the talking and "running the show." The daughter must have been around eight years old but very smart and seemed to act very sophisticated for her age. Another glass of juice and a muffin in the Pacific Parlor Car on the way back to the room was what I needed to wash away the coffee aftertaste.

When I got back to my car, coffee was on. I was a glutton for punishment in trying another cup brewed by my car attendant. Not as bad as the other cups but I didn't go for the roast they were using. While filling my cup, the car attendant, Don, approached me and asked: "Are you in the sleepers?" I was kind of shocked that he wasn't told I would be getting on in the middle of the night. I did get a newspaper under my door at 6:30am after leaving Sacramento so he must have known an extra room was taken up during the night. When I told him I was in room #6, he said: "Oh, you got on at Redding, welcome aboard!" and shook my hand. I guess the car attendants have to work hard to keep the coach passengers from wandering around in the sleepers too much. I would assume that the dining car staff acts as a good "buffer zone" too.

It was back to the Oakland Coach Yard for us to add an extra coach car. There we met #6, the CA Zephyr with the following consist:

AMTK #836
AMTK #6 back to back
baggage
3x sleepers
Dining car
Sightseer Lounge
3x Coaches

We pulled into Oakland 25 minutes early so I took the opportunity to walk the length of the train outside. When I was at the head end of our train, I noticed that F40PH #232 had "Look, Listen, Live" painted on the side and front with a crossing gate in the foreground. I wish I had my camera at that point. Just before I headed back to the station, UP Switchers #680 and #681 alone rolled by at a high rate of speed. At the station, I ran in and made a couple of phone calls—nobody home—and I re-boarded my sleeping car.

As we rolled towards San Jose, I noticed a great deal of mud and puddles beside the tracks. California got a pretty big Winter storm the other day and I didn't know it had reached this far south. Lunch at Noon was delicious. I had a bacon burger and potato chips. Desert was apple pie a la mode. I should be sick of that selection by now as it is all I ever have when I eat lunch on the train. My table mates didn't feel like talking as they decided to act like strangers to me and each other. I do enjoy some conversation but these two I ate with were brick walls. I did take the initiative this time and try to strike up a conversation but didn't get much enthusiasm back. About half way through the meal, a young woman joined us and she was no friendlier than the other two. Lots of tattoos and some facial piercing was what I noticed.

I relaxed in my room all the way to San Luis Obispo and while on top of the Cuesta Grade, I attempted to contact Santa Barbara using my Ham Radio with my long wire antenna. I didn't have any success as band conditions were very poor. We were to meet our sister train, #14 at the San Luis Obispo depot but we were held back to let the passengers/smokers re-board #14 before we could enter the station A delay of 10 minutes before #14 was all loaded up. It departed at 3:05, ten minutes late (just like we did). We rolled into the station at the same time but were 25 minutes early! I ran up to the head end and back, picked up a few things to read from inside the station (Easy Ad and Photo Ad to see what cars and motorcycles were for sale in the area). When I was at Cal Poly, I picked up both publications every Thursday so it was a "sentimental" thing to read these again. Back to the telephone to try a call—nobody home again. I was calling home to see if someone would meet me when the train pulled in.

An on-time departure out of San Luis Obispo and I was actually getting hungry again. I still had some munchies left over from the trip up but I went to the Pacific Parlor car and ate some cheese and drank champagne. Santa Barbara was two and a half hours away and I was sad that my trip was almost over. The dense fog that had settled along the coast near Vandenberg A.F.B. depressed me further! Diner reservations at last! I was listening to music and I almost missed the dining car chief running through. Only a strong wrap on the door to my room accompanied by a loud "Hello in there, dinner reservations?" got my attention. For some stupid reason, I elected to eat at 5pm, when there was a 4:30pm seating. Yikes, #11 usually arrives in Santa Barbara at 5:45pm which would give me very little time to eat. Since the train would not leave Santa Barbara until 6:15, I could take my time and finish eating while stopped at the depot if it was that close! The 5pm diner reservations were called to the diner. Just before leaving to eat, I heard the engineer calling the conductor to let him know we had some red signals ahead and several 10mph slow orders where the tracks were being worked on. This was my lucky day! I would be able to eat in peace and take my time. For most of my dinner we were stopped or moving very slowly. It is very difficult to eat when the train is jostling about. I don't know how those servers do it. I'm sure they have spilled many plates in their early days as waiters on Amtrak.

For dinner I had baked trout in a good tasting sauce, rice and scalloped potatoes. For desert I had my pie a la mode. At the table with me was a woman with a heavy French accent who resided in Jacksonville, FL and was visiting friends in Los Angeles. The lady beside me was traveling from Seattle to Phoenix. Since Amtrak cut its service to Phoenix, she would de-train at Tucson and take an Amtrak bus to Phoenix which would add an additional three hours to her journey. After that delicious dinner, I got back to my room where we had just gone over the hotbox detector four miles west of the Santa Barbara depot. I took down my antenna and gathered my belongings to disembark, which I did at 6:10pm. The car attendant handed me a Coast Starlight souvenir, a very nice ballpoint pen with the Coast Starlight logo. I kind wanted a coffee mug like I got on my last trip but the pen is very nice. My train left at 6:15pm on time and that's pretty good time! Santa Barbara is a crewchange point for the Coast Starlight and that usually takes a few extra minutes. This was a great trip indeed and it was planned only over a week in advance! This coming Spring, funds allowing, I plan to take a trip to Chicago via the Northern route and return through the Heartland.
Coast Starlight #11 Consist 12/6/96
AMTK #800
AMTK #231 back to back
Baggage #1707
Transition Sleeper #39022
Sleeping Car "Wyoming" #32118
Sleeping Car "Indiana" #32082
Sleeping Car "Texas" #32111
Pacific Parlor Car #39973
Dining Car #38058
Sightseer Lounge #33036
Coach #34508
Coach #34110
Coach #34103
Coach/Baggage #31021
I know some people don't care about the car numbers, but since I had my microcassette recorder handy, it was easy to jot notes into it as I was walking the length of the train in Oakland.
[Back to my homepage] [Other Trip Reports]
Trip report &copy 1996 Steven Reynolds
Click below for pages in the directory of TrainWeb sites:
Visit our Rail Magazine promotion trading partners: (Click here to add your print rail magazine.)
Newsletter | About Us | Contact Us | Advertise With Us | Silver Rails Country for Train Enthusiasts
View TrainWeb.US Stats | Page updated:12/22/2018 | Version 2018l22b | Links | &copy2015-2019 NordiLusta, LLC
---