Dark Territory
By Jay Glenewinkel
HOME
Power
Cabooses
Rolling Stock
MoW
Depots

DARK TERRITORY
By Jay Glenewinkel
An exclusive photo story at Screaming Eagles compiled by Jay Glenewinkel, including a brief history on the line itself, the changes in the line from the 1970s to the 1980s, and again from the 1980s to present day. Though the primary focus will be on the stretch of track to Laredo, there will also be a bit on the line to Corpus Christi which still operates in Dark Territory today. This will be a very in depth section, about a seldom discussed topic.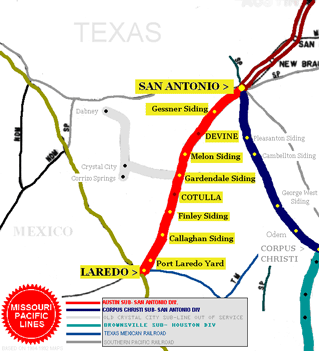 Click on image for a larger map
In June of 1997, two freights collided head on in the small town of Devine, Texas, approximatley 36 miles south of San Antonio. The incident was a result of a dispatcher error, in which he permitted the two trains to occupy the same section of track. The Northbound was running at 19 MPH, while the Southbound had accelerated to over 40 MPH. Two crewmen and two illegal riders were killed and one additional crewman was critically injured. A fourth crewman was able to walk away from the wreckage with only minor injuries. Incidentally, one of the crewman involved in this collision lost his father in 1973 in the head-on collision in Cotulla.
| | | |
| --- | --- | --- |
| Missouri Pacific GP18 leads a Northbound freight out of Cotulla, Texas in 1977. Trains on the stretch of track between Austin and Laredo operated on Track Warrants throughout the 1970s and early 1980s. Robert Pollard Photo | Missouri Pacific B-Boat #2296 approaches the Yard Limits at Sosan Yard in San Antonio, Texas in 1978. Robert Pollard Photo | A Missouri Pacific Derrick Crane approaches a major derailment site in San Antonio in 1988. Jay Glenewinkel Photo |
| | | |
| --- | --- | --- |
| Brand new Union Pacific SD70M #4899 leads an auto parts train into Sosan Yard on April 14, 2002. By now, Centralized Traffic Control is in full operation from Austin to Laredo, Texas. Jay Glenewinkel Photo | Three Union Pacific freights are lined up to go south out of the recently expanded Sosan Yard. The line to Laredo has been Union Pacific's major connection to Mexico since the late 1980s. Traffic has substantially increased over the last 20 years. In 1982, only 2 or three through freights operated on the line to Laredo. Today, anywhere between 15-20 trains can be seen on this line. Jay Glenewinkel Photo | In 1998, a new interchange track was installed allowing northbound traffic to interchange with the former Southern Pacific eastbound line to San Antonio. The interchange was named "Wilhelm Junction" in honor of Mr. Neil Wilhelm, who was the engineer of the northbound freight at the time of the collision in Devine in 1997. |
About the author
Jay Glenewinkel is a semi-professional photographer and operates his own business,. He has also worked as a crew van driver on the Missouri Pacific/Union Pacific and Southern Pacific and is a dedicated railfan.

Behind the throttle of the MP 6044 in 1984
Jay began taking pictures of trains when he was just 8 years old in 1978. After college he began taking photography seriously. In addition to railroad photography, he also has a large collection of photographs in many catagories. Several of his train pictures have been published in various publications including Diesel Era Magazine, Railfan/Railroad, the former Pacific RailNews and CTC Board.

Jay has always been a dedicated railfan, growing up with the MoPac, the Katy, and the SP. In 1992, he was a crew van driver for MP (at that time it was still referred to as Missouri Pacific in San Antonio). "In 1993, I became a crew van driver for Southern Pacific. I left to pursue other oppurtunities". Again, from 1996 up until June 1997 (when the Devine Collision Occurred) I was a crew van driver for Union Pacific. I also worked rebuilding freight cars for a private company based in San Antonio.


On MP 2315 in 1993
Jay has contributed alot of material on the Screaming Eagle site including the "Cotulla 1973 Collision", the MP 3211 series, the "Where Are They Now?" series, and the new "Dark Territory" series. A majority of his photographs and infomration are exclusive on Screaming Eagle. You will also find some of Jay's photographs on the Plains-West Gallery as well.

From a lifelong passion for trains and photography, Jay has over 100,000 train photos, and a complete inventory of photographs of various subjects counting well close to 1 million. Between railfanning, and being a crew van driver, Jay's had several opportunities to actually operate some of the locomotives. His first was MP SD40-2c #6044 in 1984 (at age 14) on a Family Days Passenger Train. He also was able to operate for a short time MP 4833, MP 2328, and MP 5006.




"Dark Territory" copyright 2002 Jay Glenewinkel, all rights reserved. Anything but personal use of these photos is prohibited.
Featured photographers:
Jay Glenewinkel, Robert Pollard
trainweb.us/screamingeagle Last Update to this page: 24 April, 2008

All content © 2000-2008 J. Glenewinkel / T. Greuter / Screaming Eagles, unless otherwise noted. All Rights Reserved.