Content provided as an educational volunteer effort of the American Passenger Rail Heritage Foundation (APRHF), a 501(c)(3) non-profit organization.
Please help support the preservation and promotion of passenger rail heritage. Join the APRHF today! Website hosting made possible by our sponsors.
The "MoPac Depot"
San Antonio, TX
International & Great Northern Railroad Depot ~
Missouri Pacific Railroad Depot
San Antonio, Texas

Front Entryway ~ 1965
Another example of the Spanish mission style archetecture is in evidence here. This depot was actually built by the International & Great Northern Railroad at a cost of $142,000.00 and was later aquired by the Missouri Pacific Railroad.

On the very top of the station is a sculpture of an indian with a bow and arrow. To my understanding, around 1983, somehow, someone had stolen the sculpture off the top of the station and rerturned it to its place several weeks later in a polished, almost brand new condition. No one has yet claimed responsibility for the benevolent act.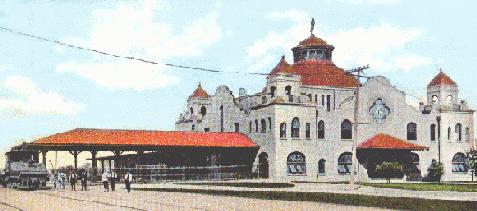 This depot is now a bank. It was refurbished around 1988. Union Pacific now moves freight trains over the tracks and the covered walkway is gone. The area around the building is now mostly parking space.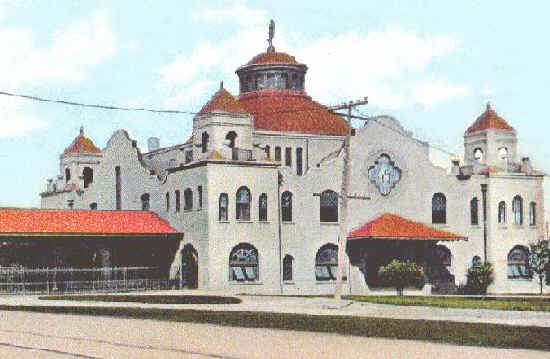 ---
Click below for pages in the directory of TrainWeb sites:
Visit our Rail Magazine promotion trading partners: (Click here to add your print rail magazine.)
Newsletter | About Us | Contact Us | Advertise With Us | Silver Rails Country for Train Enthusiasts
View TrainWeb.US Stats | Page updated:12/22/2018 | Version 2018l22b | Links | &copy2015-2019 NordiLusta, LLC
---