Content provided as an educational volunteer effort of the American Passenger Rail Heritage Foundation (APRHF), a 501(c)(3) non-profit organization.
Please help support the preservation and promotion of passenger rail heritage. Join the APRHF today! Website hosting made possible by our sponsors.
RailFest
Dupo, IL
RailFest Schedule - Spring 2005

Dates: May 20, 21, & 22
Starts:
6:00 AM on May 20th
Ends:
6:00 PM on May 22nd




General Info:
Come join us in our 11th year of Railfest. We start at 6 a.m. Friday, May 20th, 2005 and end at 6 p.m. Sunday, May 22nd, 2005. Come watch the Union Pacific and BNSF action on the Chester Sub at Dupo, IL. You are welcome to show up anytime you want. If you would like to stay overnight, pack a tent, we'll have a spot for you.

Activities:
We will BBQ Friday evening and Saturday evening, as well as light up a bonfire on Friday evening. If you want to show your photo slides, please bring them along! A projector will be provided.

Rules:
For the most part there are no rules, it's BYOB, we just ask that you do not bring any glass bottles. Alcohol is perfectly fine to bring, although excessive drunkeness will not be tolerated and you will be removed.

Donations:
RailFest is a non-for-profit event, although it is not free for the event planners to put on each year. That is why we ask for a small donation, mainly to pay for the cost of RailFest preparation/activities, and the cost of food.

RSVP:
We do ask that anyone planning to attend RailFest to please RSVP. This way, we know exactly how many people to expect at the event each year, and what preparation needs to be done. To RSVP, please do so by clicking HERE.

Directions:

From I-255, take Exit 9 (Dupo).
Make a left (coming from JB bridge), or right (going towards JB Bridge) onto Old Route 3 (turns into S. Main St.).
Make a left onto Bluff View Dr.
Make a right onto Cottonwood Ln. (no street sign) and take it to Railfest (look for "Dead End" sign, right after ballfield, just before insulation company).
MAP: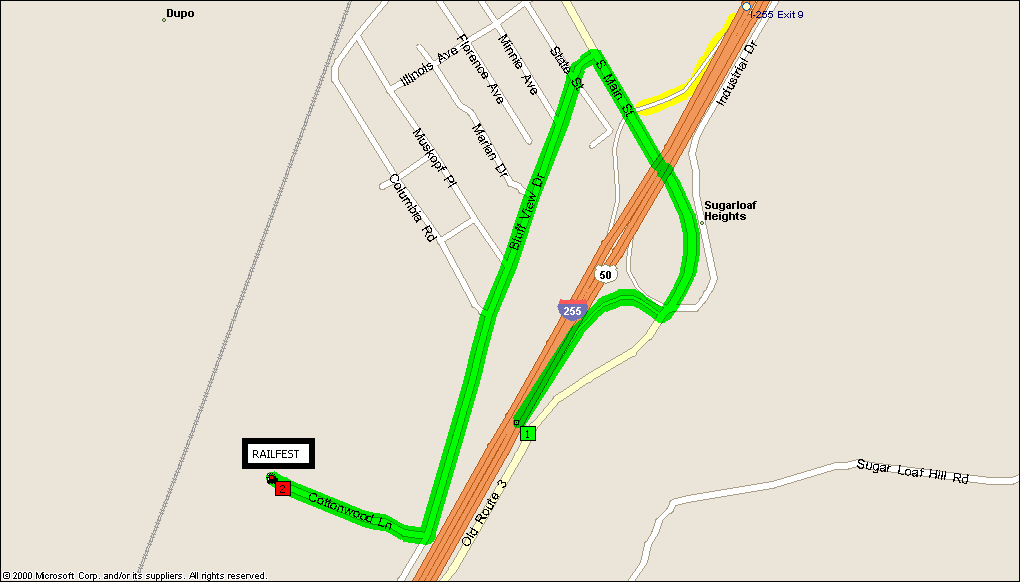 ---
HOME
---
Click below for pages in the directory of TrainWeb sites:
Visit our Rail Magazine promotion trading partners: (Click here to add your print rail magazine.)
Newsletter | About Us | Contact Us | Advertise With Us | Silver Rails Country for Train Enthusiasts
View TrainWeb.US Stats | Page updated:12/22/2018 | Version 2018l22b | Links | &copy2015-2019 NordiLusta, LLC
---