Please help support this website by becoming a TrainWeb Patron for just $5 per month. Click here for more info.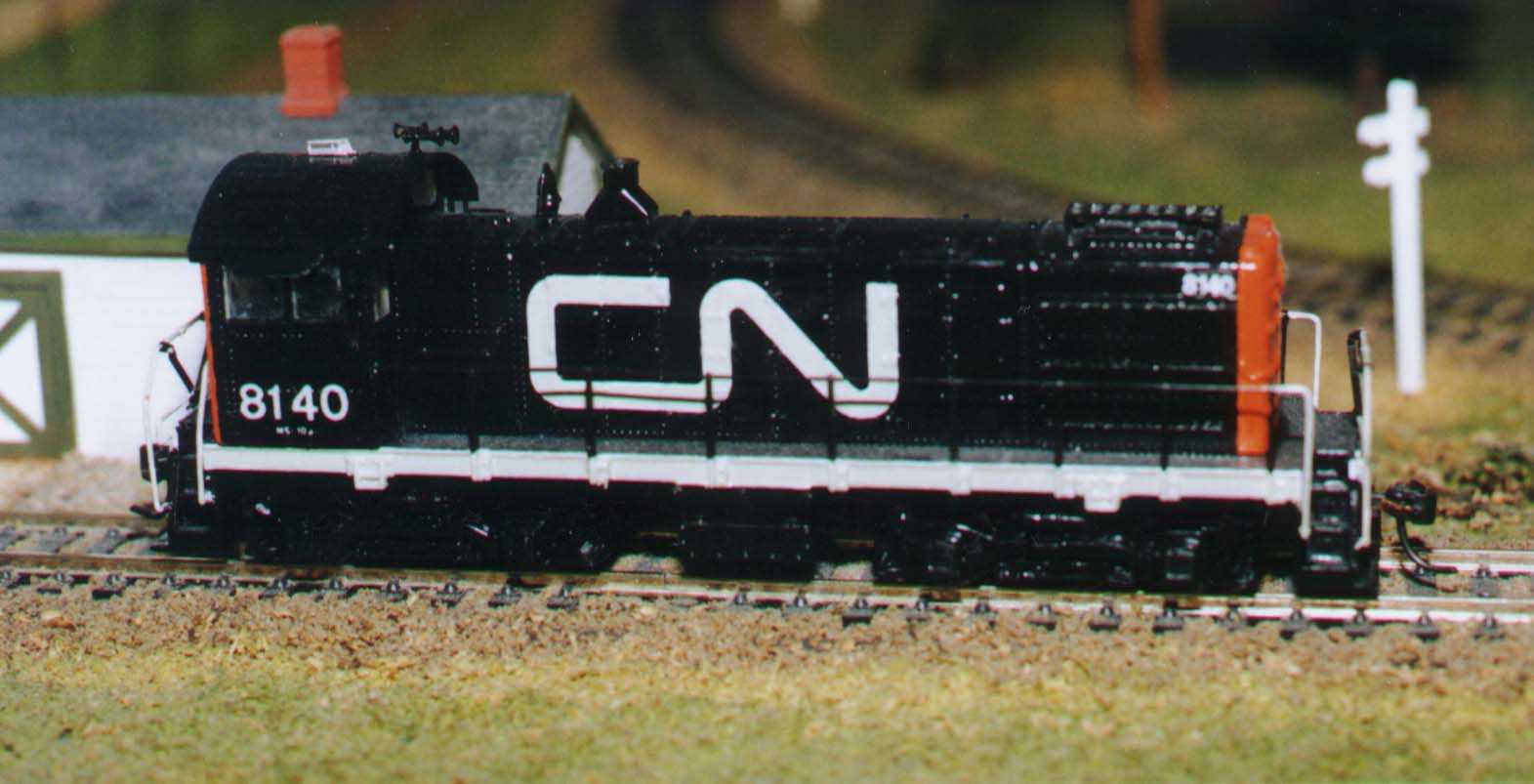 Model and photo by Leslie Ehrlich
CN S-2 8140
When I think of ALCO switchers, I usually think of Canadian Pacific, not CN. CN had a huge fleet of ALCO and MLW yard power, and unfortunately none of their S-2s, S-3s, and S-4s were operating in Western Canada after I was born. I did this unit just to compare with the CP version. Standard details on CN early ALCO/MLW switchers included a bell behind the exhaust stack and sunshades on the cab. Some units had three chime horns, and in the case of 8140, the horn was mounted on the roof. 8140 was most likely assigned to Toronto's Spadina terminal and was retired in 1973. I bought this loco second hand, and the previous owner painted it in Conrail blue. Yuck. I had no problem stripping it and painting it in CN, but that was the least of my concerns. The major problem I find with the Atlas ALCO switchers is the cab. There is not enough overhang on the sides, and the front door on the fireman's side only goes halfway up the cab. I filed down the old door and made a new one out of sheet styrene and glued it on overtop, then I filed grooves about 2mm thick along the top of the cab side windows and glued in strips of sheet styrene to create more overhang on the cab roof. It made the sunshades much easier to install. I also made a set of grab irons for the door at the back of the cab. Finally, I took some clear plastic window glazing and cut out inserts for all the cab windows. Lots of cutting, filing, and fitting. The flush fitting window inserts look far more realistic than that great big arched glazing that slides in underneath the cab. Aside from the cab, the Atlas switcher is okay. The price could come down, and undecorated units could be available at all times rather than being 'limited editions'.
Make:
Atlas
Detail Parts:
Miniatures by Eric H1 CPR Diesel Air Horn
Miniatures by Eric A1 CNR, CPR Diesel Radio Antenna
Juneco C-12 F-unit Bell
M.V. Products LS 17 Headlight Lenses for Athearn SW-7
Decals:
C-D-S Lettering HO-163 CN roadswitcher - original modern 'CN' logo (before stripe), pre-1973

Click below for pages in the directory of TrainWeb sites:
Visit our Rail Magazine promotion trading partners: (Click here to add your print rail magazine.)
About Us | Contact Us | Advertise With Us | Silver Rails Country for Train Enthusiasts
View TrainWeb.US Stats | Page updated: 01/21/2019 | Version 2021a10a | Links | &copy2015-2021 NordiLusta, LLC
---