Content provided as an educational volunteer effort of the American Passenger Rail Heritage Foundation (APRHF), a 501(c)(3) non-profit organization.
Please help support the preservation and promotion of passenger rail heritage. Join the APRHF today! Website hosting made possible by our sponsors.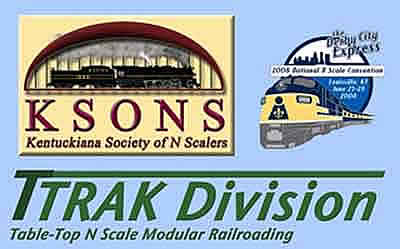 http://www.t-trak.org. This is Lee Monaco Fitzgerald's official site. She has developed this concept originally for N scale, but has expanded coverage to other scales. This site includes recommended sizes for modules in all scales.
http:www.trainweb.us/KSONS : KSONS website; the parent club to our T-Trak Division...another site by me.
http://www.srihobbies.com/ : Scale reproductions Hobby Shop...this is were we get most of our stuff.
http://www.tcry.org/ : Tennessee Central Railway Museum in Nashville.
http://www.nashvillentrak.org: This is the site of our good friends from the Nashville N-Trak club from Nashville Tennessee.

http://www.trainweb.us/ttraklist : This is a website that lists sources of information. This site also lists the yahoo t-trak N scale group.
http://groups.yahoo.com/group/t-trak/ : This is the T-Trak yahoo group. Most of the information about T-Trak in N Scale can be found here. There are lots of designs for alternate table-top modules and pictures from other individuals and groups regarding T-Trak and table-top N scale layouts.
http://www.ttrakaustintx.org/ : Austin TEXAS T-Trak group. These guys are just like us, starting out with a website and stuff. They are coming to the Convention in 2008.
http://www.nvntrak.org/t-trak/ : The Northern Virginia N-Trak Group's T-Trak Division. Like the Austin group, these guys are bringing modules to the Convention as well.
You thought T-Trak was popular here in America, Check out these links from Australia and Japan:
http://groups.yahoo.com/group/Australian_T-TRAK/ : Another Australian site.
http://jiisan2003.hp.infoseek.co.jp/ : T-Trak Network in Japan. They started this concept there in 2000, which gave Lee Fitzgerald inspiration to adapt these to US model railroading sizes and formats.
http://www.historicrailpark.com/: The Historic Rail Park in Bowling Green, Ky:
Train Museum and L&N Depot.
http://www.kyrail.org/ : The Kentucky Railroad Museum.
If you have questions or comments, please contact the Web Master at ddjewell7@yahoo.com
please put "T-Trak site changes" in the subject line.
This page was last updated on May 4, 2009
For those using iPhones, Black berries, or other cool mobile devices, use the text links below to access the entire site.
Home | Events | Gallery | Projects | Meet the Club | Links | Web Master
Click below for pages in the directory of TrainWeb sites:
Visit our Rail Magazine promotion trading partners: (Click here to add your print rail magazine.)
Newsletter | About Us | Contact Us | Advertise With Us | Silver Rails Country for Train Enthusiasts
View TrainWeb.US Stats | Page updated:12/22/2018 | Version 2018l22b | Links | &copy2015-2019 NordiLusta, LLC
---