Content provided as an educational volunteer effort of the American Passenger Rail Heritage Foundation (APRHF), a 501(c)(3) non-profit organization.
Please help support the preservation and promotion of passenger rail heritage. Join the APRHF today! Website hosting made possible by our sponsors.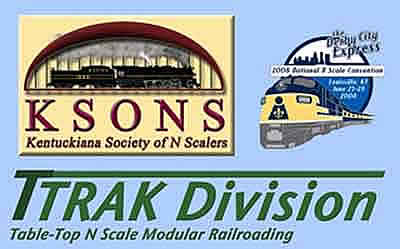 Here's my friend Joe, he's the leader of the pack.

Josh is extremely talented when it comes to designing modules.

Chris is Joshs' brother and also has a gift for making modules, I finally got a better picture of him.

Albert likes everything.

Here is my son, Jakob,

behind the Hump Yard at John Voller's.

Gerry LaPlace also belongs to the RMRA.

Here's Chris Sawdo.
If you have questions or comments, please contact the Web Master at ddjewell7@yahoo.com
please put "T-Trak site changes" in the subject line.
This page was last updated on May 4, 2009
For those using iPhones, Black berries, or other cool mobile devices, use the text links below to access the entire site.
Home | Events | Gallery | Projects | Meet the Club | Links | Web Master
Click below for pages in the directory of TrainWeb sites:
Visit our Rail Magazine promotion trading partners: (Click here to add your print rail magazine.)
Newsletter | About Us | Contact Us | Advertise With Us | Silver Rails Country for Train Enthusiasts
View TrainWeb.US Stats | Page updated:12/22/2018 | Version 2018l22b | Links | &copy2015-2019 NordiLusta, LLC
---