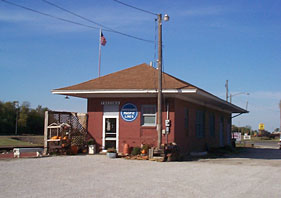 Fredonia, Kansas depot - a neat little structure with a blue buzzsaw. - © photo Craig Meador
MoPac Right of Way -
Depots
The Small Town's Meeting Hall
Depots were a neccesity of railroading up until the demise of passenger service in the late 60's. After that, the Mopac utilized highly visible vans painted in corporate colors called a mobile agency service to deal with shippers, mainly in the customer's office. Many depots languished for years without passengers riding the rails. Ultimately this resulted in the closing of some stations.
The earliest structures were humble, usually single story wood buildings. In larger towns these would become imposing multi-story structures, with spires and elaborate trim, meant to impress and show the railroad's importance to it's citizens.
Typical depot colors on the early MoP were colonial yellow (almost a light lemon color) with medium green trim. It's been stated that the railroad used light yellow so engineers could see the depot at a distance. The MoPac changed from green to brown trim after 1925.
In later years the large buildings gave way to smaller, more utilitarian in design. The MoPac adopted all white paint for it's wooden depots. Brick stations had white trim. Finally, many depots met their end through fire, mishaps, or demolition, being replaced by frieght offices. Eventually even these disappeared.
Depot at Claflin, Kansas
- A scene that could have been seen anywhere across American railroads during the Sixties - Lee Berglund photo/T. Greuter Collection ·
This page features a few of those depots, both those still used today, those preserved, and those long since gone.
In addition to this page, there are listings of known Missouri Pacific depot locations for Nebraska and Northern Kansas.
As sources are limited, some of this information may be outdated, and by no means complete. I'm also looking for build dates for each individual depot. With abandonments and renamings of subdivisions, the information can become confusing. Hopefully the material isn't presented to confusingly.
Also check out Structures for other Buildings and Yards.