View from the Yardmaster's Tower
the Yardmaster's Perspective
HOME
Power
Cabooses
Rolling Stock
MoW
Depots

The 1191 (with the brakeman on the step) was taken in 1974, a year before photographer Nathan Griffin hired out on the UP, at Hoskins Junction, which is near Clute, Texas.ĘThe engine is facing south and this picture of the yard was taken about a year or so before the yard tracks were extended. - © Nathan Griffin Photo
View from the Yardmaster's Tower
The Yardmaster's Perspective

Materials are always being gathered for this new feature. If you have any stories or photos that you would like to contribute to this effort, please feel more than welcome to contact me.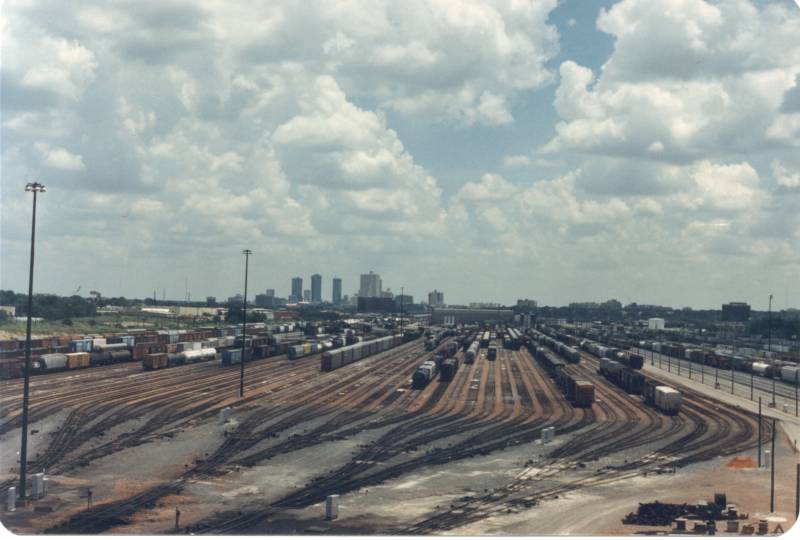 A view of Missouri Pacific's Centennial Yard from the Yard Masters tower in 1984. Centennial Yard is formerly known as Lancaster Yard from the Texas & Pacific days. - Jay Glenewinkel Photo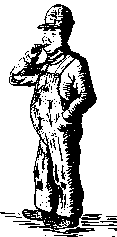 The Job
First in order: a short description of the duties of those stationed out of the railyard, including a few slang names.
Air Monkey - Air brake repairman
Car inspector - a.k.a. car knocker, wheel knocker, car toad, car tonk
Carman - A person trained in the craft of inspecting and repairing railroad cars.
Crew Van Driver - His job was to transport a train crew to and from their locomotive. Though their duties may take them far from the railyard, each driver was assigned to a specific yard.
Engine Watchman - his job was to keep water in the boiler and keep enough fire going in the firebox to move the locomotive within the railroad yard.
Grease Monkey - An employee who is responsible for greasing frogs, switches and interlocking track equipment. Also a car oiler.
Hostler - person working in an engine shed under the operating foreman. The Hostler would go into the yard and pick up an engine from where the journeyman Engineer left it running, and move it into the roundhouse.
Yard clerk - a car checker who maintains a listing of freight cars on arriving and departing trains. A.k.a. Mud Hop
Switch-engine Engineer - position was held by apprentice engineers learning the trade. Their job was to move cars or rolling stock around the railroad yard. Once the apprentice engineer proved his ability with handling the Switch-engines, the next opening for a Road Engineer would be his.
Switchman - works in the railroad yards, hooking cars together, sometimes while the cars were moving. A.k.a. Snake, Iron Bender
Wiper - His job was to work a 12 hour shift in the roundhouse, where he packed the internal moving parts of some engineer's beloved engine with grease.
Yard Master - a.k.a. yard goat, dinger
Yard crew -a.k.a. yard rats, hostler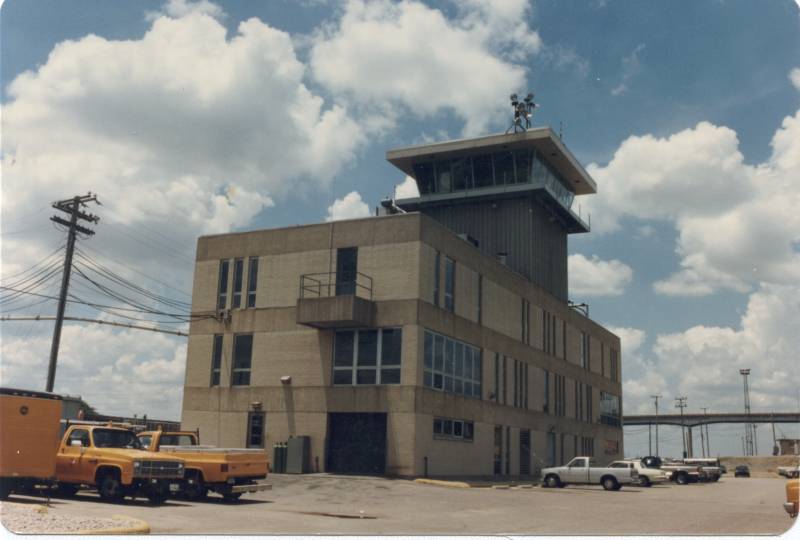 A look at Missouri Pacific's Yard Master Tower in Fort Worth, Texas in 1984. - Jay Glenewinkel Photo
Working on the Railroad
A little information about the crew van drivers in the South Texas region
By Jay Glenewinkel
Like railroad crews, the van drivers are assigned to Yards. Even the long haul drivers have a main Yard Base.
I first became a crew van driver in 1992. All the Crew Van Companies are contracted out by the railroads, however, in a round about way, we do work directly for the railroads as, as we have railroad radios. and our paperwork is sent to the railroads.

In the late 1980s and early 1990s, the Missouri Pacific (by then under Union Pacific control, but still "officially" a seperate company) contracted with a company called Browns transport. There were two types of work, Yard Drivers and Long Haul. The yard drivers worked 12 hour shifts within the Yard Limits, and Long Haul drivers worked with crews on the mainline, and transported crews and equipment from city to city, or from Yard to train.

My first job was with Browns, as a yard driver. This company was a very poorly run company. The vans were always breaking down, and often unsafe to be on the road. There were several occassions when there was a leak of exhaust or fuel fumes in the vans, which often resulted in getting the crews sick. Because of the lack of maintenance of the vans, which in turn increased the dangers of operating a crew in these vans, I left the company. Browns lost the contract about a year later and another company came in.

In 1993, I went to work for a company called "Yellow Rail" on the Southern Pacific. This company was contracted by the SP, but was also owned by the SP. With this company, I worked long haul, often working with crews in Del Rio, Eagle Pass, Victoria and Houston. At the time, the DOT standards had just been placed into law, however, Yellow Rail failed to abide by the laws set forth. To begin, the vans used were min-vans rather than full sized vans. DOT and Railroad standards are that any vehicle transporting Railroad crews must be able to seat a minimum of 7 passengers, not including the drivers. Often, the operaters of these vans would be on the road well over 12 hours at a time.

I remember one particular trip I made with a Southern Pacific crew. I picked up a three man crew, plus one Superintendant from Kirby Yard in San Antonio. I took the crew on a 117 mile trip to Sinton, Texas by Corpus Christi. They untied the train, and I assisted them with this train from Sinton to Victoria. This was another 87 mile trip. Being an active railfan, I was able to spot a dragging brake rig in the middle of the train. I contacted the crew on the head end and told them the location of the car in the train, as well as the car number. The crew immediatley stopped the train. I drove to the head end to pick up the conductor and took him to the car with the defect. Sure enough, I had made a "Good Find". I single handedly prevented a major derailment, as there were several HazMat cars in this train. The car was cut out of the train, and the crew was on their way again. The train was put into a siding twice, and had to wait for 3 trains. When we finally arrived in Victoria, I had put in 13 hours already. But my day on the job was just beginning.

In Victoria, I transported another crew to Flatonia. This was an additional 90 miles of so. From Flatonia, I worked with a third crew briefly on a Westbound Train for about an hour. From there I headed back to San Antonio. At this point, I had worked almost 19 hours on the road. Immediatley upon arriving in San Antonio, I was called to take a crew from San Antonio to Uvalde and assist them with a train all the way to Del Rio. Total mileage for this trip was 160 miles, plus an additional 11 hours. In Del Rio, I had to take a fifth crew to Eagle Pass, another 90 plus miles and 3 more hours. In Eagle Pass, I took a crew back to San Antonio.

This was one continous trip I had made. Almost 900 miles and 36 hours on the road without rest. At the time, I lived directly across the street from the Kirby Yard. When I walked in the door at home, I hit the bed, and I was out for 16 hours. I was fired, because I refused what would have been a trip to Houston from there. I thought 36 hours was enough for one shift. Two good things did come out of it though. I earned a pretty good paycheck for that long run, and I recieved a letter of recognition from the President of the Southern Pacific Railroad for preventing the derailment. I worked for Yellow Rail for about 8 months.

A few months later, I went back to work on the Union Pacific side under a new company "Raudin McCormick" (RMC). This company was much better organized, with better equipment and management. I started in the yard again, working in an expanded yard limits territory. With this company, we worked 8 hour shifts, rather than 12 hour shifts with Browns. I remained at this position for a considerable amount of time. I had to leave the company for a few months due to health and personal reasons.

In 1996 I hired back on with RMC, but this time as a long haul driver. I mainly worked with train crews between San Antonio and Laredo in Dark Territory. With the increase of traffic on this stretch of line, it would often become very lengthy tasks. In Dark Territory, there were no signals. The train crews communicated with the dispatcher out of Omaha and recieved track warrants for movements. Any time a train was put into a siding, the conductor would have to get off of the train, unlock and line the switch, allow the train to enter the siding and then "Line and Lock" the switch for the main. This routine was repeated when the train left the siding as well. My job was to assist the conductors with transportation to and from the trains. Often, I would be assigned to one train for an entire trip. When the crew hogged out, so did I.

There were also several trips I made to Corpus Christi, Houston, Taylor and Smithville. I also made a few trips to Palestine, Waco and Fort Worth. In mid-1996 RMC took over the former Southern Pacific work by purchasing Yellow Rail. This expanded our territory considerably. Just like the train crews, we were allowed to work a maximum of 12 hours, then we hogged out. Basically, our working time was ended in a similar fashion as railroad crews. I remained with this company up until the time of the 1997 collision in Devine.
Railroad Slanguage

Bad Order - When a defective car is found by a car inspector, he tacks a small card labeled "bad order" in bold lettering on or near the door of the car. That car may not be moved from the terminal where the inspection occurred until the necessary repairs are made.

Bleeder - The valve by which air is bled from the auxiliary air tank reservoir on a car.
Booster unit - slug

Bowl - The tracks in the Classification Yard where all of the cars are switched to after being humped.

Classification Tracks A system of tracks designed to facilitate classification switching by providing for the arrangement of freight cars according to their kinds, contents and destinations.
Consist - The make-up of a freight train by types of cars and their contents.

Flares (Fuses) - Combustible torches which burn (red, yellow or green) for ten to fifteen minutes as warning signals to other trains when touched off and placed or thrown on the ground by train service employees.
Frog - The "X" shaped plate of a cross-over rail; also an implement to rerail car wheels.
Goat - Switcher engine
Gun - A torpedo placed on a rail which will act as a signal warning when it is detonated by a train crossing over it.
Hopper - Car with hinged trap doors and inclined floors which permits speedy unloading of certain types of ballast or other material.
Hot Box - Overheated wheel journal or wheel bearing which usually causes journal packing to burn and smoke.
Hump Yard - A switching yard on an incline where, after movements by the engine, the cars are shunted by gravitational pull to their destination in a yard.
Interchange - A track on which various cars are delivered or received from one railroad to another.
Ivory Tower - The main control room where the TMD (Train Movement Directors) are based.

L.C.L. - Less than carload lot (freight).
Main Line - That part of a railroad exclusive of switch tracks, branches, yards and terminals.
Manifest - Fast freight usually made up of merchandise, perishables or livestock.
ME - Maintenance of Equipment Department

MP - Motive Power Department

Reefer - A refrigerator car, sometimes known as a freezer.
Retarder Yard - A switching yard in which the movement of cars, after they are released from a locomotive, are controlled by an employee in a control tower.
Rip Track - Minor car repair siding.

Roundhouse - A building in which locomotives and other railroad equipment are inspected, cleaned, repaired and serviced.
Terminal Facilities - provided by a railroad at a terminus or at any intermediate point on its line for the handling of passengers or freight, and for the breaking up, making up, forwarding and servicing trains, and interchanging with other carriers.

Turntable - A track table operating on a pivot for diverting locomotives or cars into a specific track. Turntables may be located inside or outside of a roundhouse or other shop facility.
Wye - A track in the form of a "Y" which leads from a main line and is used in lieu of a turntable for turning engines, cars and trains around.
Yard - A system of tracks within defined area limits for the making up of trains, storing of cars, and for other purposes.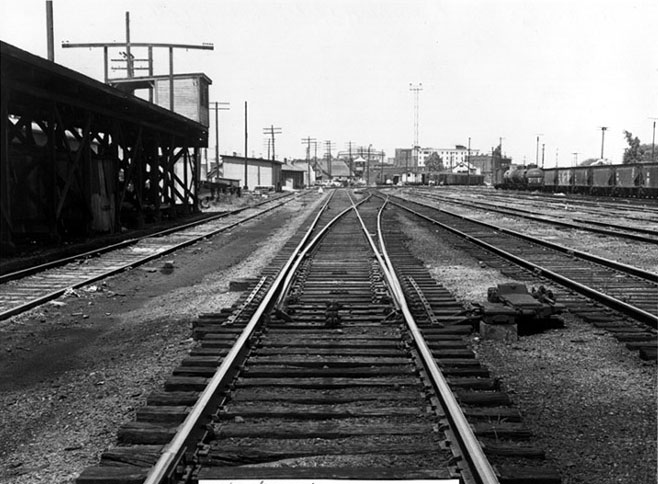 Henderson Avenue looking north, Poplar Bluff, Missouri, 1950 - Craig Meador Collection





Railroad Clipart courtesy of
The Ultimate Railroad Clip Art Library
All images & text © 2000-2008 T. Greuter / Screaming Eagles, unless otherwise noted. All Rights Reserved.