Please help support this website by becoming a TrainWeb Patron for just $5 per month. Click here for more info.
MoPac Diesel Power - First Generation
EMD GP7, GP9, GP9m, GP18
HOME
Power
Cabooses
Rolling Stock
MoW
Depots

EMD GP9 and GP9m

MoPac Diesel Power - First Generation
The General Purpose road switchers


Diesel Domination - the 1950's-'60's
Click on the thumbnails to see a larger image

the GP9 - MoPac subsidiary Texas & Pacific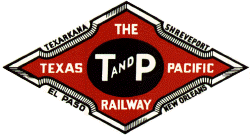 Diesel-hungry Missouri Pacific was placing orders for Geeps almost as soon as they arrived on the system. Many went to subsidiary Texas & Pacific. Always individualistic T&P chose to paint their units in a colorful black and swamp holly orange scheme. But in 1959, while retaining the T&P design, the railroad chose to standardize their colors to the MoPac's Eagle blue and gray.
Since the TexPac was such an integral part of the Missouri Pacific -- and we don't not have a photo of these units ourselves -- we've linked back to a photo at the MPHS's mopac.org.
Texas & Pacific GP9 #1132 - Built in March 1959, #1132 wears this hybrid scheme. It would go on to be renumbered as T&P 387, then again as MP 552 before being wrecked and retired in November 1973. - © photo MPHS Collection

the GP9 & GP9m
| | | | | |
| --- | --- | --- | --- | --- |
| MODEL | BUILDER | FIRST DELIVERY | FINAL DELIVERY | TOTAL |
| GP9 | EMD | 1/55 | 5/57 | 54 units |
| GP9m | EMD | 4/58 | 4/58 | 2 units |
Unit:

Missouri Pacific
EMD GP9

Location/Date of Photo:

Hoisington, Kansas
June 1972
Locomotive No.

MP 382

Photographer:

Lee Berglund photo/T. Greuter collection

MP 382 is basically an upgraded GP7 rated at 1,750 hp.
Unit:

Missouri Pacific
EMD GP9

Location/Date of Photo:

unknown
unknown
Locomotive No.

MP 1805

Photographer:

© copyright George Elwood Photo, used with permission

This GP9 was built in March of '55. The "bristle-back" appearence of MP Geeps comes from the application of spark arrestors to the exuast stacks on all non-turbo-charged units.
Unit:

Chicago & Eastern Illinois
EMD GP9

Location/Date of Photo:

San Antonio, Texas
1976
Locomotive No.

C&EI 1826

Photographer:

Photographer unknown/Jay Glenewinkel Collection

C&EI GP9 1826 - was built in June 1956 as C&EI #233. It was renumbered to C&EI 340, then to Texas & Pacific #340, and finally renumbered as MP1826.
Unit:

Missouri Pacific
EMD GP9

Location/Date of Photo:

Omaha, NE
September 6 1980
Locomotive No.

MP 1848

Photographer:

Jerry Bosanek Photo/ T. Greuter Collection

MP 1848 - this GP9 sparkles in full modern era Jenks Blue with broader stripes and the eagle emblem on the cab at Omaha, Nebraska on September 6, 1980.
MoPac orders 12 RS 11's in October 1959.

Featured Photographers:
Alyn Merrill, Brian Paul Ehni, Glen Beans, Arthur B. Johnson, George Elwood, Jerry Carson, Jerry Bosanek, Robert Pollard-Jay Glenewinkel Collection, F. Hol Wagner, Jr., and Lee Berglund

Sources:
Missouri Pacific Diesel Power by Kevin EuDaly


Every effort has been made to get the correct information on these pages, but mistakes do happen. Reporting of any inaccuracies would be appreciated.
trainweb.us/screamingeagle l Last Update to this page: 25 June, 2008

All images & text © 2000-2008 T. Greuter / Screaming Eagles, unless otherwise noted. All Rights Reserved.
Click below for pages in the directory of TrainWeb sites:
Visit our Rail Magazine promotion trading partners: (Click here to add your print rail magazine.)
About Us | Contact Us | Advertise With Us | Silver Rails Country for Train Enthusiasts
View TrainWeb.US Stats | Page updated: 01/21/2019 | Version 2021a10a | Links | &copy2015-2021 NordiLusta, LLC
---